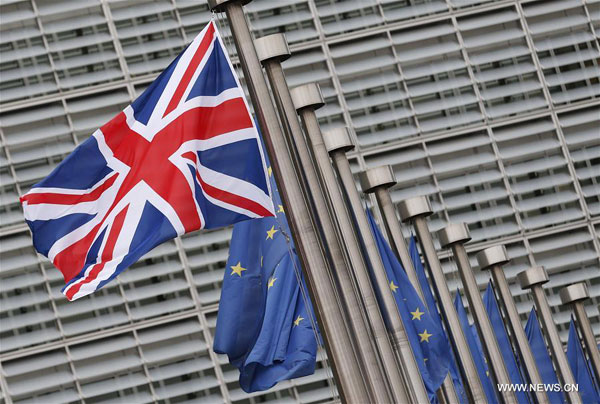 Photo taken on Jan 29, 2016 shows the UK and EU flags outside the European Commission headquarters in Brussels, Belgium. [Photo/Xinhua]
Mainland stocks had their greatest gain for the week while Hong Kong's equities extended gains to a fourth day as traders perceived increasing odds of Britain staying in the European Union.
The Shanghai Composite Index advanced 0.9 percent by the close, led by energy companies. Technology and small-company shares also rallied, sending the ChiNext index to its highest level in two weeks. The Hang Seng Index climbed 0.6 percent. HSBC Holdings Plc paced gains for lenders. Hong Kong Exchanges & Clearing Ltd, which received about one-fifth of its revenue from the United Kingdom last year, jumped the most in almost a month.
Stocks added to gains in the afternoon even as opinion polls and financial markets were at odds about the likely outcome over Brexit. While an index of betting flows compiled by Oddschecker shows the odds of leaving have fallen to 26 percent from 43 percent since June 14, polls found the race is too close to call. Asian nations, such as China, with slowing growth, high reliance on exports to the EU and exposure to capital flight, are most at risk, according to Bloomberg Intelligence. As the world braces for the outcome of Thursday's vote, Li Ka-shing, Hong Kong's richest man, stepped up his calls for Britons to vote in favor of staying.
"The United Kingdom referendum is just around the corner and the result is still highly uncertain," said Liu Xuezhi, an analyst at Bank of Communications Co in Shanghai.
In the mainland trading, the ChiNext jumped 2.5 percent. The Shenzhen Composite Index advanced 1.7 percent. Hong Kong's Hang Seng closed at the highest level since June 10, while the Hang Seng China Enterprises Index increased 0.7 percent. Turnover picked up in Hong Kong, with trading volumes in the benchmark rising 13 percent from the 30-day average.