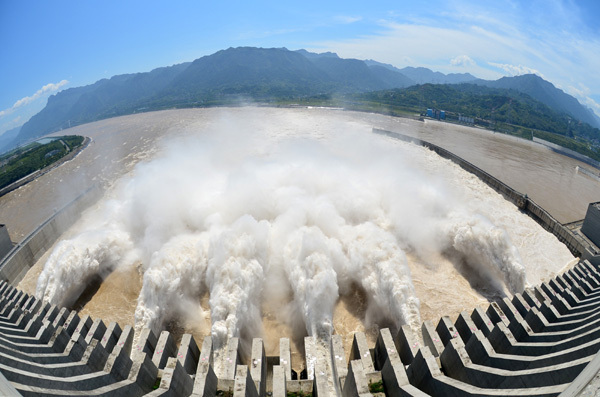 The sluice gates of the Three Gorges Dam. [Photo/Xinhua]
Brookfield Asset Management Inc, Canada's biggest alternative asset manager, and China Three Gorges Corp are among companies weighing offers for Duke Energy Corp's Latin American power plants, people with knowledge of the matter said.
Chinese government-owned electricity generator State Power Investment Corp is also considering bidding for the assets. The sale could fetch more than $2 billion, according to the sources.
Duke Energy, the second-largest US utility owner by market value, said in February it's considering the sale of about 4,400 megawatts of generating capacity in Central and South America. Half the assets are in Brazil, where drought and an economic downturn hurt Duke Energy's results last year, with the remainder in Argentina, Chile, Ecuador, El Salvador, Guatemala and Peru. Hydroelectric plants make up about two-thirds of the portfolio, according to the February statement.
Weak economic conditions in South America are driving Duke Energy and its competitors to consider asset disposals. US power generator AES Corp agreed this month to sell a utility in the country to CPFL Energia SA for $464 million.
"We have said that we are working with interested parties now, and that process continues," Tom Williams, a spokesman for Duke Energy said on Tuesday, declining to comment further.
A representative for Brookfield declined to comment. China Three Gorges and State Power Investment didn't immediately respond to faxed questions seeking comment.
NextEra Energy Inc is the largest US utility owner with market value of $57.3 billion, according to data compiled by Bloomberg. Duke Energy is second, at $56.5 billion.
China has sought to cut pollution and spur investment in non-fossil fuels in the world's second-largest economy. The country last year was the world's biggest investor in clean energy with $110.5 billion, almost double the US investment, according to data from Bloomberg New Energy Finance.
Companies from China have announced at least $5.1 billion of overseas alternative energy acquisitions in the past year, according to data compiled by Bloomberg. State Power Investment bought Australian renewable energy developer Pacific Hydro Pty in January, gaining assets in Australia, Brazil and Chile.
China Three Gorges agreed this month to buy control of German wind farm operator WindMW GmbH from Blackstone Group LP. The deal values WindMW at about 1.7 billion euros ($1.9 billion), including debt, people familiar with the matter said at the time.
Brookfield has also been active in the energy market in South America. It is currently leading a consortium that aims to acquire an 81 percent stake in a natural gas pipeline network in Brazil from state-run oil company Petrobras valued at roughly $6 billion, according to people familiar with the matter.
Brookfield also agreed to buy a majority stake in Colombia power generation company Isagen SA for roughly $2 billion through one of its subsidiaries earlier this year.