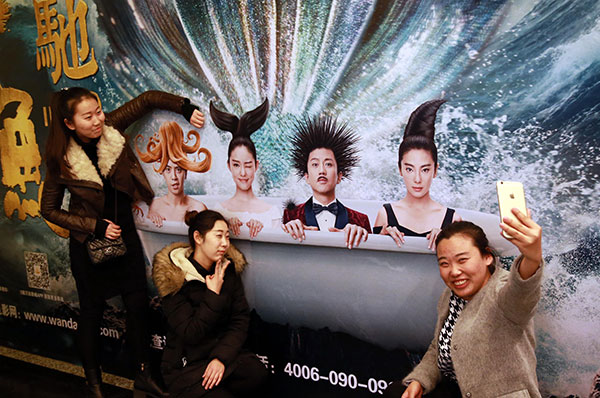 People pose in front of a poster of The Mermaid, directed by Stephen Chow, at a cinema in Beijing in February. [Zou Hong/China Daily]
Ingenious Media, a UK company, reached a $200-million deal with the Chinese fund Hejing Culture to form a joint venture to coproduce and cofinance a slate of films, according to the two companies.
More and more global media companies and celebrities are seeking Chinese partners, looking favorably at China's investors and huge consumer market.
Ingenious and Hejing said this venture marks the first step in what they hope will be a long running partnership. They expect that a number of projects that result from the agreement will qualify as official Chinese coproductions.
Founded in 1998, Ingenious has produced and cofinanced hundreds of feature films, including last season's Oscar contenders Brooklyn and Carol plus global blockbusters like Avatar and Life of Pi. It has also made more than 550 hours of television programming with partners including 20th Century Fox, Sony Pictures, NBCUniversal, Warner Bros, Paramount Pictures and Walt Disney.
Renny Harlin, the Hollywood director best known for the 1990s action hits Die Hard 2 and Cliffhanger, has just secured local financing for a new production company based in Beijing.
Orlando Bloom is also partnering with China's Bliss Media on a new production venture. The newly formed entity, called BlissBloom Productions, will be jointly run by the actor and Bliss Media CEO Wei Han.
"China has affluent funds and huge demand, and that's why more and more global media companies and Hollywood directors and actors want to seek Chinese partners," said Zhai Changxin, vice-president of the China Cultural Industry Investment Fund. He said another reason for joint ventures is that China has a regulation limiting the annual number of imported movies and coproduction films have no worries about this.
"The global market for entertainment content is experiencing an exciting period of change - from the seismic shifts in individual consumption patterns to the unprecedented growth in China," said Neil Forster, CEO of Ingenious Media. "Any long-term global growth strategy has to involve an alignment with the right kind of partners, and we couldn't be more delighted to be working alongside Hejing to continue to bring high-quality entertainment to global audiences," said Forster.