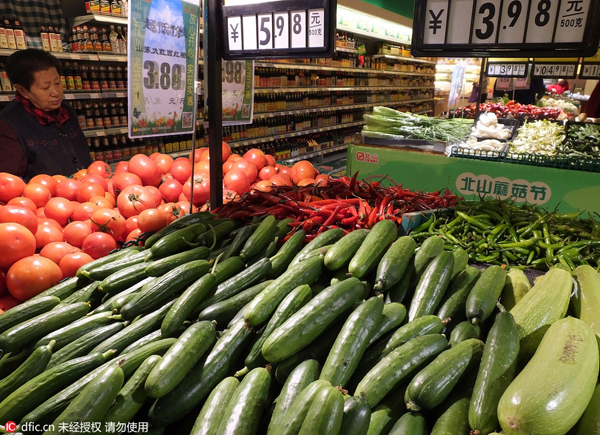 A resident chooses vegetables in a supermarket in Yichang, Central China's Hubei province, March 8, 2016. [Photo/IC}
BEIJING - Farm produce prices in 36 major Chinese cities dropped last week, as average prices of fruit and vegetables shed more than 2 percent from a week earlier, official data showed.
The Ministry of Commerce (MOC) said in an online statement that the prices of 30 vegetables and six fruits dropped last week, with eggplant, bitter gourd and cauliflower down 9.4 percent, 9.2 percent and 7 percent, respectively.
Grain slightly retreated, with rice prices down 0.2 percent from the previous week, while flour remained unchanged from a week earlier.
Changes to meat prices varied, with pork edging up 0.6 percent. Mutton dropped 0.6 percent, and beef declined by 0.1 percent.
Cooking oil prices slightly gained. Soybean, rapeseed and peanut oils all climbed by 0.1 percent.
Seafood prices rose slightly by 2.4 percent from a week earlier, with common carp and crucian up 3.1 percent and 2.9 percent.
Food prices account for one-third of the calculation of China's consumer price index (CPI).
China's CPI rose 2.3 percent in April, flat from the previous two months. May CPI will be released on Thursday.