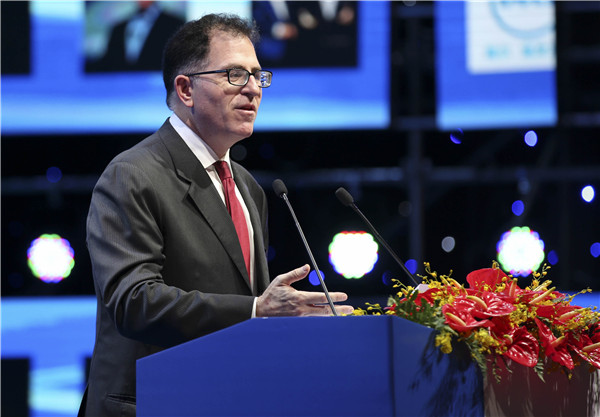 Michael Dell, CEO and chairman of Dell Inc
Dell Inc is eyeing a bigger presence in China's cloud-computing market by helping its local partner establish a new firm on Wednesday, as the country intensifies efforts to encourage enterprises to embrace digitalization.
The new company, named Guizhou YottaCloud Technologies Co Ltd, was unveiled as Michael Dell, CEO and chairman of Dell, attended the ongoing China Big Data Industry Summit in Guiyang, capital of Guizhou province.
"China will play an increasingly important role in the big data era and the United States-based tech giant will speed up efforts to develop new products for the market," Dell said.
Huang Chenhong, president of Dell Greater China, said Guizhou YottaCloud will be one of the vehicles for the company to sell cloud services to small and medium-sized enterprises and local governments.
"Dell will offer technology support to the new company," Huang said, but he declined to comment on whether Dell has made financial investments into the new company.
Guizhou Wing Cloud High Technology, the owner of Guizhou YottaCloud Technology, has been working with Dell in cloud services since last year.
"We will also establish a cloud industry alliance to promote the development of China's infant cloud market," Huang added.
Dell is the latest foreign tech giant that is seeking for local partnerships to tap into China's IT market as local governments and State-owned enterprises are in favor of homegrown tech companies' products and services amid concern over national security.
Kitty Fok, director of International Data Corp China, said the biggest overseas giants have all tied up with local companies, especially State-owned enterprises.
"An SOE identity and cutting-edge technologies are both necessities to win in the Chinese market," said Fok.
China is Dell's second-largest market after the US.
Last year, the company promised to invest $125 billion in China over the next five years to boost innovation, research and development, and other areas.