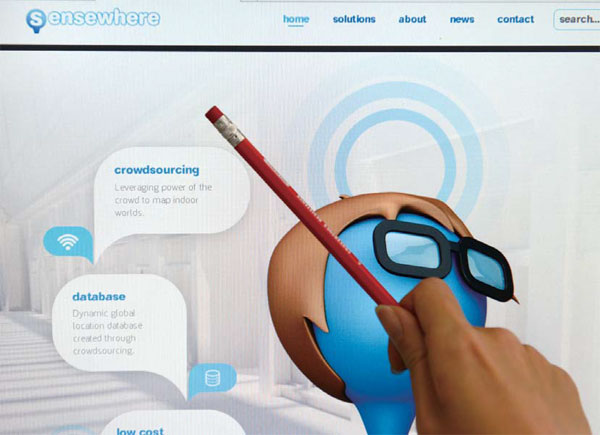 With help of a UK-China startup program, Sensewhere opened an office in China a year ago. Photos by Wei Xiaohao / China Daily
When the small Edinburgh-based software startup firm Sensewhere took the step to open an office in Shenzhen a year ago, it may not have dreamed that its technology would be receiving hundreds of millions of location requestsfrom Chinese app-users a day.
One big contributing factor was a partnership between the Shenzhen and Edinburgh local governments to support young startups, which is celebrating its first anniversary on Friday.
Under the scheme, Sensewhere took the opportunity to establish an office in the Shenzhen incubator F518 Idea Land for free, and in addition received China market advice in the process.
Three months later, in August 2015, Sensewhere received significant investment from China's internet giant Tencent, which has since incorporated Sensewhere's indoor positioning software in Tencent Maps and Tencent QQ. The additional capital allowed Sensewhere to grow quickly. Since moving out of the incubator, it has established two of its own one-person representative offices, in Shenzhen and Beijing
Sensewhere's story is typical of a new trend of UK startups growing into China with the help of British university and government initiatives, which fill the gap between China's abundant capital and market for high tech firms, and British startups' inability to expand to China by themselves due to capital constraints.
"Universities are well placed to pioneer such initiatives as they play a natural conduit role for knowledge transfer, idea innovation and skills development amongst the investors, entrepreneurs, and business communities globally. Universities' reputations and networks can also benefit as start-ups seek expansion in China,' said Wendy Wu, incubator manager at Edinburgh Napier University.
The University of Oxford has established a China-focused desk within its technology transfer subsidiary, Isis Innovation, to help cutting edge tech firms from its academic laboratory find Chinese investors. The University of Lancaster established a China-focused "catalyst program' to support high tech UK firms enter China, through the university's own research and development capabilities.
More recently, in April the London Business School organized a student-led startups pitch day where new initiatives founded by its graduates sell their ideas to Chinese venture capital fund managers, in an environment much like the television show Dragon's Den. Pitching firms ranged from a 3D printing medical device maker to a travel app developer.
In October, a group of Scottish startups will be sent to pitch in front of about 100 investors in both Shenzhen and Hong Kong for the first time, under a government-sponsored scheme. "We recognize it's hard for Chinese investors to come to our events, so we bring our companies to China,' says Gordon Stuart, of the non-profit firm Informatics Ventures, which manages the program.
These initiatives came after Chinese Premier Li Keqiang called for "mass entrepreneurship', and launched a 40 billion yuan government fund in 2015 to invest in seed-stage tech startups. In the private sector, angel investment funds, venture capital funds, and funds developed by dominant technology companies like Tencent, offer seed funding tailored to the smaller capacity of fledgling companies.
Hence foreign firms with a base in China stand better chances of gaining Chinese investment. Vicky Wu, of Shenzhen Creative Investment Group, the parent company of F518, said introducing Chinese investors to the Scottish startups at F518 is a big part of her team's work, and her team is now in discussion with other international partners to send startups to F518 in groups following the Scottish example.
Information technology, smart cities, financial technology and bio-technology are amongst examples of key industries that Chinese venture capital firms are keen to invest in, and they are eager to hunt for the latest examples of cutting edge technology from the UK university setting, said Zheng Zhaoyu, a partner at the Beijing-based angel investment firm ZhenFund, who attended the LBS pitch day.
ZhenFund has already invested a significant proportion of its portfolio in US tech startups, and is now diversifying its international investments, with the UK being high on its agenda, believing the UK's high tech firms will find a good market in China as its economy experiences a structural shift up the value chain.
Zheng said his team hopes to invest in UK startups and expertise in China to help them commercialize their technology in China on a large scale so they can reach their full potential in China's vast market.
"UK firms often lack a big market to deploy their technology in, hence it expect to be more involved shaping the strategy of UK targets we invest in, compared to our US investments, which have a big domestic market to serve already,' he said.
To contact the reporter: cecily.liu@mail.chinadailyuk.com