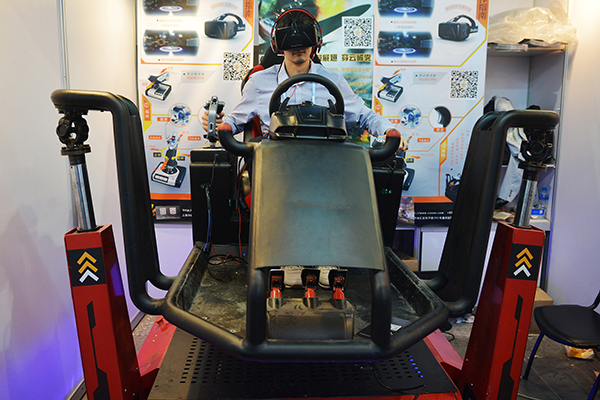 A man tries out a VR (virtual reality) game at the 119th China Import and Export Fair, or the Canton Fair, in Guangzhou, capital of south China's Guangdong province, April 15, 2016. [Photo provided to China Daily]
Young product designers in China are on the cusp of rapid growth as the domestic manufacturing sector craves innovation and homegrown brands.
"It is easier for young designers to create products that would appeal to their contemporaries who are becoming a major force as consumers," said Huang Junyi, a 24-year-old graphic designer.
"Many online platforms help design students and fresh graduates to seek business opportunities, which encourages young designers to start their own businesses," said Huang, who co-founded GRI Creative Studio earlier this year.
Selected for the PDC Design Talent program, a scheme run by the Canton Fair Product Design and Trade Promotion Center, Huang was provided a booth free of charge to display his works to companies and buyers attending the ongoing fair.
The program is open to designers aged under 35 who have studied or worked in the design industry for three to five years. It selects eight outstanding applicants to participate in the design exhibition at a session of the Canton Fair.
Michel Millot, 73, a renowned industrial designer from France and one of the first designers who took part in the PDC exhibition, said he hopes to see more young Chinese designers at the fair.
"The Canton Fair, where you can find all kinds of products, is a paradise for designers because what we want more than anything else is to design a variety of products," the founder of Millot Design told China Daily.
"A common problem in the design education across the globe is the lack of teaching that could show designers how to work with engineers," said Millot, who teaches courses at universities in France, Canada and South Korea.
"Young designers can learn a lot at the Canton Fair through exposure to all kinds of products and the opportunity to communicate with manufacturers," he said.
Meng Chao was selected for the PDC Design Talent program right after graduating from Tsinghua University in 2013 with a degree in industrial design. His creative design of a curved sofa attracted much attention. He was invited again to participate in the design exhibition at the Canton Fair the following two years.
Last year, Meng came to the Canton Fair with his co-founded original furniture brand Yuso, which has an average monthly sales of 400,000 yuan ($61,800) on Taobao, the largest shopping website in China.
Meng attributed the rapid development of his business to the Canton Fair.
"Displaying my works at the Canton Fair is very different from displaying at school. At first I just had a miniature of the curved sofa to show and with so many buyers interested in my design, I really wanted to materialize it," Meng recalled.
"And the manufacturers I built contacts with at the trade fair helped me, solving one of the biggest difficulties confronting design startups."