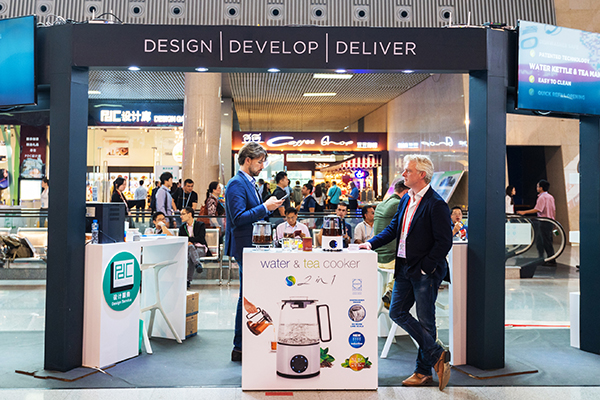 Two exhibitors stand by their small smart home appliance booth at the Canton Fair in Guangzhou, Guangdong province. The ongoing fair attracts 25,000 enterprises from home and abroad. [Photo/China Daily]
A unit of the expo sensitizes China's manufacturers to shapes, sizes and branding
At the Canton Fair, or the biannual China Import and Export Fair in Guangzhou, Guangdong province, chubby robots move around and invite passers-by to check the oxygen level in their blood. They offer help to those needing an oxygen boost.
Nearby, screens cover a booth with 2,500 green acrylic tubes. Visitors throw curious glances, wondering what's inside. Behind the curtains is a 3-D printer that produces ... chocolates.
At other stalls, more gadgets abound: portable air purifiers, music-playing and scent-spraying lamps ... all promising to make life fun and convenient.
Local and overseas design firms' booths are clearly a key attraction at the fair, which will end on Thursday.
Around 25,000 exhibitors, mostly small and medium-sized Chinese manufacturers, are taking part in the fair. The Canton Fair Product Design and Trade Promotion Center or PDC was set up in 2011 to reach out to them.
According to Xu Bing, deputy director of the China Foreign Trade Center, the PDC aims to "upgrade made-in-China products with innovative design and thus improve the competitiveness of China's exports".
Tin Huang, director of industrial design at MITO-design, a firm from Taiwan province, has been attending the PDC Design Show since 2012. His team designed a series of children's headphones in 2014 for Vcom International Ltd, a manufacturer of electric cables based in Guangzhou.
About 300,000 units were sold during the October-November session of the fair as consumers liked the playful design and replaceable covers featuring popular animation themes.
Huang is now working on developing the second generation of the headphones. "Within months of the launch, buyers were asking us to upgrade the product and add new features by the spring (April-May) session," said Steven Hu, sales director of Vcom.
"The economic climate now is tougher than the global financial crisis in 2008. Chinese manufacturers are facing fiercer competition not only in terms of price but product design," Hu said. "To survive, we must provide something new to fill a niche."
Huang from MITO-design said Chinese manufacturers are realizing the importance of design after the financial crisis.
While the business volume of the Canton Fair kept dropping from 2011 to 2015, the MITO-design's booth at the trade fair has been receiving about 20 new clients each session. Talks with about 300 clients marked the latest session.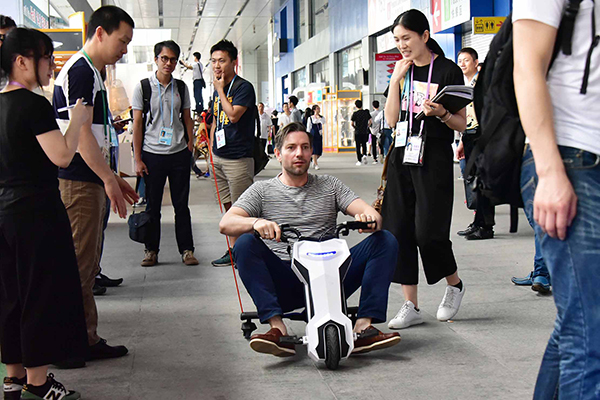 A man test-drives a mini electric car at the ongoing Canton Fair in Guangzhou, Guangdong province. Innovation and design have become key elements at this time-honored trade fair. [Photo/China Daily]
To better serve its clients on the Chinese mainland, MITO-design has set up an office in Foshan, a major manufacturing base in Guangdong.
In all, 723 design firms from 18 countries and regions have taken part in the PDC exhibition since 2011, interacting with more than 80,000 exhibitors and buyers.
"China's manufacturing sector no longer takes upgrading and transformation as empty talk. The design industry has considerable room for development," said Alan Yip, founder of Yip Design Ltd of Hong Kong, which has an office in Shenzhen.
"The term "industrial design" was introduced in China about 20 years ago. Ever since, the design sector has been seeing rapid growth, nurtured by the mainland's strong manufacturing sector," Yip said.
But some problems remain. Some clients drive a hard bargain with designers, or ask the latter to submit their designs first, but don't clear bills promptly. "It shows some business owners still undervalue design," Yip said. "Some others haven't used design services before, so the PDC events help educate them."
Younger entrepreneurs are more conscious of the importance of design. Zhan Jianquan, 37, studied graphic design at Tsinghua University and returned to Shenzhen in 2003 after graduation to work as the creative director at his father's ceramics factory.
He designed the logo to better promote the brand Stechcol at home and abroad. He has been active in design competitions since 2008, winning international awards.
Zhan is now leading a team of 100-odd designers and 400-odd factory hands. He has also invited independent designers such as Yip to generate fresh, bold ideas.
"Entrepreneurs born in the 1980s and 1990s reject copycats and advocate combining manufacturing capacity and design competence," Zhan said.
Some Chinese manufacturers are not only upgrading product design but building their own brands. Jorg van den Hoven, director of Orange Branding, an Amsterdam-headquartered design and branding consultancy, has got 40 business leads per day for the company's branding service at the fair.
"In the coming 10 years, the Canton Fair will no longer be a commodity fair but a brand fair where companies sell products with added value," van den Hoven said.
"Chinese companies now understand they need clear, strong branding that links their products with a lifestyle to differentiate themselves from competitors and possibly raise the price."
Jewelry box brand Vlando and stationery brand Vpack belong to Dongguan Weiqun Packaging Products Co Ltd, an original equipment manufacturer for which Orange Branding has designed strategies.
Until Orange stepped in, the Dongguan-based OEM made products for overseas luxury brands like Gucci. It had no distinct identity of its own in the marketplace, leave alone brands.
With the help of Orange Branding, however, the two brands came into their own. Vlando targets women aged between 25 and 40 who buy light luxury products. Vpack targets startups that seek to build up colorful workplaces.
Orange Branding has helped the two brands to stand out from the crowd. Their combined overseas sales are expected to be between $1.5 million and $2 million this year, according to James Wei, CEO of Vlando and Vpack.
The products are mainly sold on online marketplace Amazon. "In the era of e-commerce, it costs less for Chinese manufacturers to try out original brands in overseas markets and we can receive instant feedback to improve our products," Wei said.
"With a strong manufacturing capability and the convenience of e-commerce, it is worth a try to launch our own brands."
The Canton Fair is co-hosted by the Ministry of Commerce and the provincial government of Guangdong, and organized by the China Foreign Trade Center.