A man looks at an Airbus plane model during the Beijing International Aviation Expo in Beijing. BOC Aviation owned and managed 270 aircraft at the end of 2015, with narrow-body planes from Airbus Group SE and Boeing Co making up 79 percent of the total.[Photo/Agencies]

BOC Aviation Ltd begins assessing demand for its listing in Hong Kong
BOC Aviation Ltd, Asia's biggest aircraft-leasing company by asset value, has begun gauging demand for a Hong Kong initial public offering that could raise as much as $1.5 billion, people with knowledge of the matter said on Monday.
The Singapore-based company, owned by Bank of China Ltd, expects to start taking investor orders in mid-May, according to the people, who asked not to be identified as the information is private. It plans to start trading at the end of May.
The BOC said in a written statement sent to China Daily: "Seeking the spinoff and listing will help BOC Aviation realize its actual value and enhance the brand image of the BOC Group."
According to the statement, BOC Aviation filed an application for listing on the Hong Kong Stock Exchange on March 4. After BOC Aviation gets listed, BOC will keep a controlling share of the subsidiary whose financial statistics will appear on the financial statements of the group.
At the end of 2015, BOC Aviation posted a $343 million profit after tax. Its total assets reached $12.5 billion. The company has a portfolio of 270 owned and managed aircraft leased to 62 airlines in 30 countries.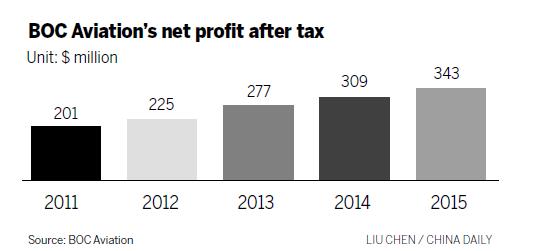 Asian leasing companies are boosting fleets as the region is set to overtake the United States as the world's largest market for aircraft in two decades. Economic growth in China, India and Southeast Asia is spurring air travel and encouraging more companies such as billionaire Li Ka-shing's CK Hutchison Holdings Ltd to enter the plane-leasing market, whose returns can exceed those of airlines and are usually locked in through multiyear contracts.
"This is a good buy," said Shukor Yusof, founder of aviation consultancy Endau Analytics in Malaysia. "It's a lucrative and attractive investment. Return on investment is more than 10 percent in this business, more than investing in airlines."
BOC Aviation is planning to list at a time when Hong Kong equities are approaching a bull market, with the benchmark Hang Seng Index rising 17 percent from its low this year in February. First-time share sales in the city have raised $4.1 billion this year, down from $7.1 billion the same period in 2015, data compiled by Bloomberg show.
The company plans to use the proceeds from the IPO to fund pre-delivery payments for new aircraft, as well as future plane purchases, according to terms for the deal obtained by Bloomberg on Monday.
"Our core business model is focused on purchasing new, fuel-efficient, in-demand aircraft at competitive prices directly from manufacturers," BOC Aviation said in the prospectus.