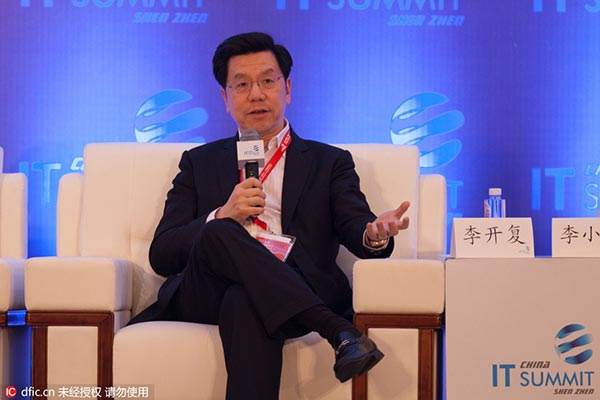 Kai-Fu Lee, founder, Chairman and CEO of Innovation Works, attends the 2016 China (Shenzhen) IT Summit in Shenzhen city, South China's Guangdong province, 27 March 2016.[Photo/IC]
BEIJING - International Finance Corporation (IFC), an arm of the World Bank, announced Monday it has invested $15 million in China Innovation Works to support entrepreneurship in China.
The investment will go toward Sinovation Fund III LP, a venture capital fund focusing on early and mid-stage Internet companies in China. It is the first time that IFC has invested in such programs in China.
"We are quite impressed by what is happening in the entrepreneurship space sector in China, where the country is taking a leading role now," said Atul Mehta, director of IFC TMT, Venture Capital & PE Funds.
Innovation and entrepreneurship have become China's new growth engines. They have benefited from increased government policy support of innovation spaces in hopes of boosting industrial upgrades and employment.
It is interesting to see that China shifts to an economy driven by innovation and service, and Chinese young people are more open to pursuing entrepreneurship as an option, Atul Mehta added.
IFC's development priorities in China include clean energy, consumption, and technology in innovation fields such as education, the Internet and finance.
Kai-Fu Lee, founder of China Innovation Works, pointed out that IFC's investment will help them promote its innovative business model of "investment plus incubation," which has created a strong incubation ecosystem in China, helping mentor local entrepreneurs and provide them with resources both domestically and internationally.
As of March 2016, China Innovation Works has invested in over 200 projects in areas such as big data, digital entertainment, intelligent hardware, sharing economy, online education, business services, cloud computing, and e-commerce.