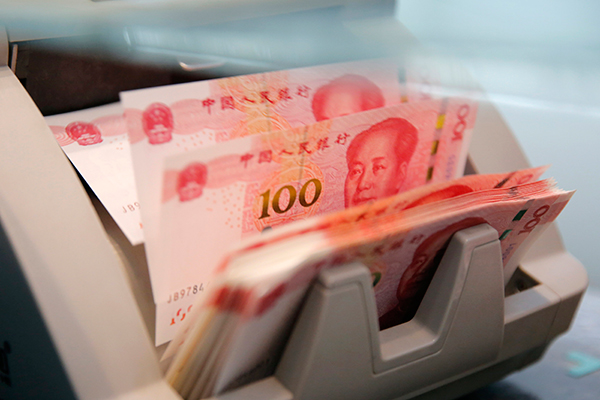 Chinese 100 yuan banknotes are seen in a counting machine while a clerk counts them at a branch of a commercial bank in Beijing, China, March 30, 2016. [Photo/Agencies]
It's part of the bank's aggressive expansion plan along the Belt and Road Initiative routes
Bank of China (Hong Kong) Ltd has received regulatory approval to set up a branch in Brunei, becoming the first Chinese bank allowed to enter the Southeast Asian country.
Its parent company, the Bank of China, has been actively expanding its global network, especially in countries along the routes of the Belt and Road Initiative, which pass through more than 60 countries and regions.
An important Belt and Road country, Brunei is politically stable and geographically well positioned, and its infrastructure is well developed.
The opening of a BOCHK branch in Brunei will not only fit in with China's strategy of development but will also help the Bank of China, the nation's fourth-largest commercial lender by assets, cover all members of the Association of Southeast Asian Nations. At the same time, BOCHK is exploring the market in Southeast Asia and trying to develop into a regional bank.
BOCHK announced the regulatory approval this week.
Vice-President Lin Jingzhen said at a China-Brunei meeting: "We're actively preparing for the launching of the new branch, which will open for business as soon as possible. It will inject vitality into the development of financial markets in Brunei."
Vice-Minister of Commerce Gao Yan said the announcement signifies that financial cooperation between China and Brunei "is entering a new stage".
She is looking forward to the contribution of the branch in Brunei to economic and trade cooperation between the two countries.
Last year, BOC set up four new branches in Laos, Myanmar, the Czech Republic and Austria as well as a representative office in Morocco.
So far, the bank has overseas branches in 46 countries and regions, including 18 countries along the Belt and Road.
Tian Guoli, chairman of BOC, said at a news conference for 2015 interim results: "We'll further increase our branches in South Asia, Central Asia, West Asia, Central and Eastern Europe, as well as North Africa to build the arteries of the financial system. In particular, we'll try to expand our network to more than half of the countries along the routes of the Belt and Road Initiative."
jiangxueqing@chinadaily.com.cn