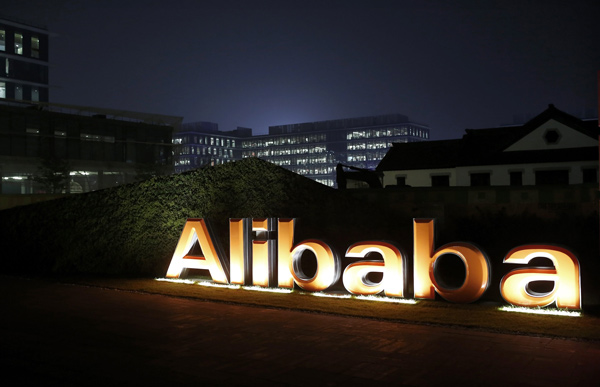 The logo of Alibaba Group is seen inside the company's headquarters in Hangzhou, Zhejiang province early Nov 11, 2014. [Photo/Agencies]  
The offshoots of e-commerce conglomerate Alibaba Group Holding Ltd are setting up a joint venture with a major insurance company in China, tapping into the huge potential of the country's internet health insurance sector.
Alibaba Health Information Technology Ltd said in an after-trade filing to the Hong Kong Stock Exchange on Thursday that it has entered into an agreement with six other parties to establish a joint venture, which is to engage in internet health insurance related operations in China.
The joint venture company, which has a registered capital of 1 billion yuan ($154 million), is Alibaba's latest push into China's nascent but rapidly growing internet insurance sector.
"Through the joint venture, it (Alibaba Health) will be able to participate in internet health insurance, which is a new and promising business area that will also help align the interests of the participants in the healthcare market," said the Hong Kong-listed firm in the filing.
The joint venture is pending for the approval from China's insurance authority.
China Taiping Insurance Holdings Co Ltd, which accounts for 21 percent of the stake, is the largest shareholder of the joint venture.
While the combined stakes held by Alibaba Health, Alibaba (China) Technology and Shanghai Yunfeng, a private equity firm cofounded by Alibaba Chairman Jack Ma, totals 40 percent of stakes. TPL, Yuwell Technology and Shenzhen Baiyeyuan, account for the rest 39 percent of the joint venture.
Industry observers are not surprised by Alibaba Health's move in health insurance as the integration of internet technology and insurance industry has shown strong growth potential.
Ma Tao, a research director of the Beijing-based internet consultancy Analysys International, said that it makes a lot of sense for Alibaba Health to make foray in the sector as it has natural advantage in data and technology.
Statistics from Analysys International showed that the internet insurance market was estimated at 150 billion yuan in 2015, about 6 percent of the entire insurance sales in the country.
Li Xiang contributed to this story
mengjing@chinadaily.com.cn