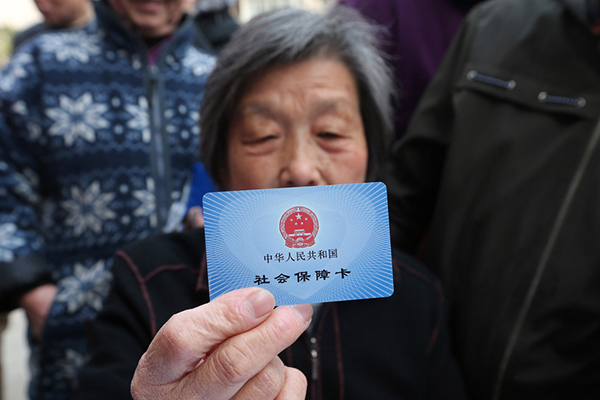 An elder shows her social security card in Nantong city, Jiangsu province, March 30, 2016. [Photo/IC]
Lowering the contribution rate of social security funds could save more than 120 billion yuan ($18.51 billion) for companies each year, a top official said on Friday.
The country will further reduce the burden on enterprises by lowering the required contribution rates of pension insurance, unemployment insurance and housing provident funds in a two-year period starting on May 1, said a statement issued after the State Council meeting presided over by Premier Li Keqiang on Wednesday.
Zhang Yizhen, vice-minister of human resources and social security, said at a briefing on Friday that "cutting the social security funds is an important initiative to push forward supply-side structural reform, relieve corporate burden, strengthen corporate vitality and promote the sustained and healthy economic development."
According to the policy, companies whose contribute rate surpass 20 percent of the pension insurance payment shall be lowered to 20 percent, while those in provinces that see sufficient funds can lower the rate to 19 percent.
And the total unemployment insurance contribution rate, which had been cut by one percent point in 2015, could be progressively lowered to 1 percent to 1.5 percent, and that of housing provident funds should stay below 12 percent.
"Lowering the contribution rate of pension insurance and unemployment insurance could save 38.6 billion yuan ($5.96 billion) and 30 to 60 billion yuan for enterprise each year, respectively," said Zhang, adding considering the reducing on other social security funds last year, the policy is expected to save over a total of 120 billion yuan for enterprises each year.
Lu Kehua, vice-minister of housing and urban-rural development, said: "Enterprises are the basis of economic growth and lowering the housing provident funds periodically could strengthen the enterprises' vigor and enhance their efficiency, increase the employment and stabilize economic growth."
Xinhua contributed to the story.