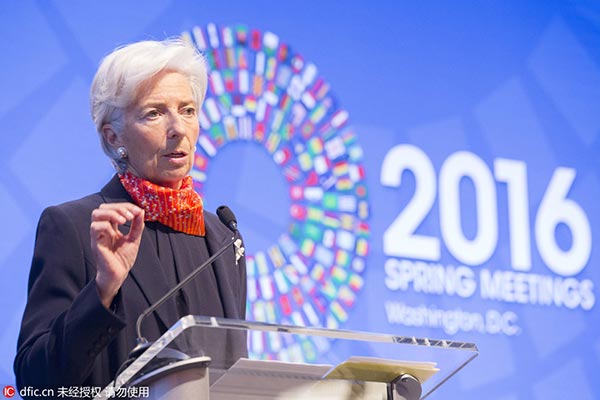 International Monetary Fund Managing Director Christine Lagarde delivers introductory remarks at the "Financial Inclusion: Macroeconomic and Regulatory Challenges" seminar April 11, 2016 at the IMF Headquarter in Washington, DC.[Photo/IC]
WASHINGTON - The International Monetary Fund (IMF) on Tuesday lowered its forecast for global growth in 2016 to 3.2 percent, saying that the global economy grows at a sluggish pace that leaves the world economy more exposed to risks.
The world economy is projected to grow 3.2 percent in 2016 and 3.5 percent in 2017, a downward revision of 0.2 percentage point and 0.1 percentage point, respectively, compared with the IMF's forecasts in January, showed the IMF's flagship report World Economic Outlook released on Tuesday.
"The downgraded forecasts reflect a broad-based slowdown across all country groups," said Maurice Obstfeld, chief economist at the IMF, at a press conference.
"The weaker is growth, the greater the chance that the preceding risks, if some materialize, pull the world economy below stalling speed, where demand is insufficient to avoid a low-growth and deflationary equilibrium."
The global lender forecast that the Chinese economy would expand by 6.5 percent in 2016 and 6.2 percent in 2017, both up 0.2 percentage point from its January predictions. The upgrade reflects China's announced stimulus policy and the trend that robust growth in the service sector offset recent weakness in manufacturing activity.
As for the Chinese economy, the IMF said there could be substantial spillover effects from China's transition toward more sustainable growth based on consumption and services. But "ultimately, that process will benefit both China and the world," said the IMF.
At the press conference, Obstfeld said that China's efforts to ensure policy transparency as well as smooth transition will support global growth. He called on China to further reform its state-owned enterprises, deal with non-performing loans, and strengthen regulatory framework.
The US economy is expected to grow 2.4 percent in 2016 and 2.5 percent in 2017, down 0.2 percentage point and 0.1 percentage point respectively from its previous forecasts.
In the current environment of weak growth, risks to the outlook are now more pronounced, said the IMF. The prominent among them are financial risks and risks of the economic origin, such as refugees issue and the possibility of UK's exit from the European Union, said Obstfeld.
The IMF warned that a return of financial turmoil will impair confidence and threaten economic outlook. Emerging market economies will further see worsened corporate balance sheets and sharp capital outflows.
"Another threat is that persistent slow growth has scarring effects that themselves reduce potential output and with it, consumption and investment," said the IMF. "Consecutive downgrades of future economic prospects carry the risk of a world economy that reaches stalling speed and falls into widespread secular stagnation."  
The IMF emphasized a three-pronged approach of mutually reinforcing policy levers, including structure reforms, fiscal support and monetary policy measures.
It warned that policymakers need to make contingency plans and design collective measures for a possible future in case downside risks materialize.