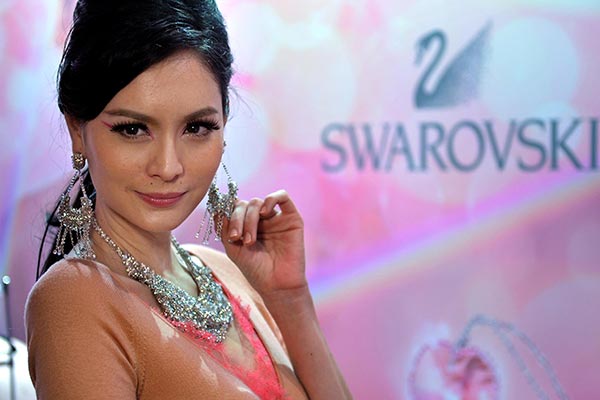 A model presents Swarovski's jewelry in Hong Kong, Feb 8, 2012.[Photo/VCG]
Young Chinese are developing an appetite for affordable foreign brands even as fine jewelry reigns supreme
Kasey Zhang, a Beijing-based young professional in her late twenties, believes that women always need a piece of jewelry in their lives. It is an important element of their daily routines, helping them to dress up a working outfit or adding a special touch to a party ensemble.
However, she does not believe that diamonds are a girl's best friend. She personally prefers crystal jewelry over fine jewelry because of its affordability and delicate designs.
"I like buying crystal jewelry pieces because of their beautiful designs and because they are much cheaper than other jewelry creations," explained Zhang. "So if I lose them, I will be sad but it is not a tragedy."
Traditionally, the purchase of jewelry in China has been driven by conservative reasons related to its perception as an economic asset.
For this reason, the Chinese jewelry market continues to be dominated by fine jewelry, particularly by pieces with precious metals and stones.
Total retail sales value of the jewelry market in China surpassed 500 billion yuan ($77 billion) in 2015, of which retail sales value of gold jewelry accounted for around 75 percent, according to research and consulting group Frost & Sullivan.