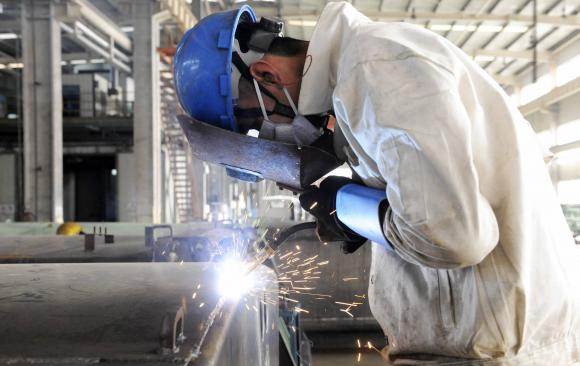 An employee welds the exterior of a vehicle along a production line at a factory in Qingdao, Shandong province on Dec 1, 2014. [Photo/Agencies]
Economic growth will accelerate in the second quarter, while factory production slowdown is likely to stage a rebound in March, Bloomberg reported on Wednesday citing Goldman analysts.
Growth of industrial added value slowed to 5.4 percent in February, but there's more underlying strength than meets the eye, Goldman Sachs Group Inc economists, including Song Yu and MK Tang, wrote in a report.
Consumer price increase will probably be faster this year than in 2015 amid rising food prices and surging home prices, said Ma Jun, chief economist at the research bureau of the People's Bank of China.
Pork prices, a key component of the consumer price index, surged to a record in March. February property prices rose in the most cities since March 2014.
New home prices in Shanghai jumped about 20 percent year-on-year, while in Shenzhen prices soared 72 percent, prompting the two cities to rein in speculation and mitigate risks for a bubble with new measures.
"Investment in the real-estate sector is expected to gain further, leading to a higher probability of a rebound in the economy, which also brings negative news to the bond market," Ming Ming, a fixed-income analyst at Citic Securities Co, was quoted as saying.
Among the major risks for the bond market are signs that the government's efforts to stimulate the economy are finally beginning to take effect.
The gap between short- and long-term yields widened at the fastest pace since June last month, pushing the curve to the steepest since October.
The 10-year sovereign bond yield has risen 14 basis points from a seven-year low of 2.72 percent in January, reflecting a greater exposure to losses should the market turn, while that on one-year debt slid 20 basis points to 2.09 percent, according to Bloomberg.
The central bank has lowered benchmark interest rates six times since 2014, helping fuel an advance in the bond market and driving debt to a record 247 percent of gross domestic product in 2015, said the report.