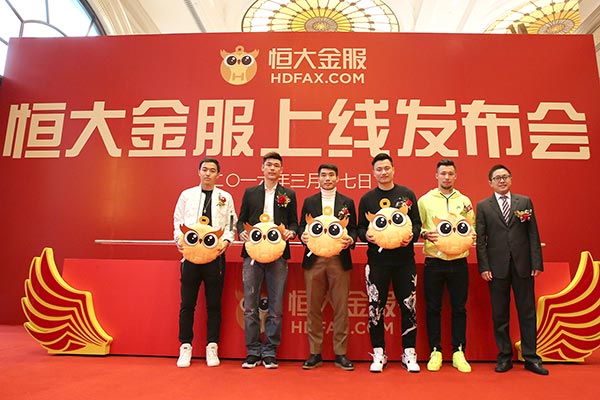 Star players of the Guangzhou Evergrande Taobao Club, jointly owned by Evergrande Group and Alibaba Group, pose for photos during the launching ceremony of Evergrande's Internet finance service in Guangzhou, the capital of Guangdong province, March 17, 2016. [Photo by Qiu Quanlin / chinadaily.com.cn]
Evergrande Group, one of the leading property developers in China, diversified its business by launching an Internet finance service on Thursday.
The company's Internet finance service will cover Internet payment, sales of funds, and prepaid cards as well as other financial products, according to the company.
Evergrande, which realized sales revenue of 201.3 billion yuan ($30.98 billion) in 2015, issued the first batch of online financial products which range from three months to a year with annualized return rates reaching up to eight percent.
According to the company, the Internet finance service will help boost the company's overall business in the future, as China's Internet finance industry is projected to expand to more than 17.8 trillion yuan in 2016.
Besides its backbone real estate business, Evergrande, based in Guangzhou, the capital of Guangdong province has also entered several sectors including agriculture, insurance, culture, sports, health, and finance.