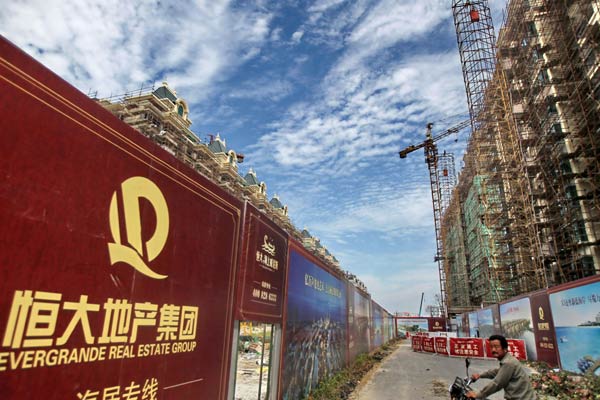 A residential complex developed by Evergrande Real Estate Group in Qidong, Jiangsu province. The Guangzhou-based company recorded transaction volumes of 16.681 million square meters this year. Provided to China Daily
Evergrande Real Estate Group, a leading property developer, has achieved its annual sales targets early after posting sales of 120.7 billion yuan ($19.6 billion) during the first 11 months of the year.
According to company data released on Wednesday, Evergrande posted sales of 13.41 billion yuan in November that pushed the total 2014 sales over the annual target of 110 billion yuan with a year-on-year growth of 22.7 percent.
The Guangzhou-based Evergrande recorded transaction volumes of 16.681 million square meters this year, surging 14.2 percent year-on-year, at an average price of 7,236 yuan ($1,175) per sq m, increasing 7.4 percent year-on-year.
The impressive sales figures came after some signs of stability were seen in the realty market in big cities in November.
According to data provided by the China Index Academy, an affiliate of real estate firm Soufun Holdings Ltd, new home prices in the 10 largest cities grew for the first time in six months in November, with a 0.07 percent increase from the level in October.
Signs of recovery were also evident in another November report released on Wednesday by E-house China R&D Institute.
Among the 30 cities monitored by E-house, first-tier cities saw transaction volume grow 5.4 percent and second-tier cities by 4.6 percent in October, while transaction volume in third-tier cities dropped by 7.8 percent.
Overall, the group of cities posted sales of 18.53 million sq m of new residential floor space in November, growing 0.9 percent month-on-month, making it the fifth consecutive month that these 30 cities have seen sales growth.
Assessing the strong performance of Evergrande this year, Yan Yuejin, a researcher at E-house, said that it comes as no surprise that premium brand companies have felt the least pinch in what was otherwise a largely bearish market.
"When overall demand is low, the resultant demand naturally veers toward larger companies. From the point of view of the homebuyers, it is obvious that they prefer development projects from large real estate companies," said Yan.
Large companies can also make use of rebounds in the market by floating big-ticket marketing campaigns to create a buzz and realize swift sales, Yan said.
Although Evergrande is the first property company to reach its annual target, analysts believe that other benchmark real estate companies, such as Vanke Co Ltd and Greentown China Holdings Ltd, will follow suit and achieve their respective annual targets.
However, a large proportion of real estate companies are still expected to miss their targets this year.