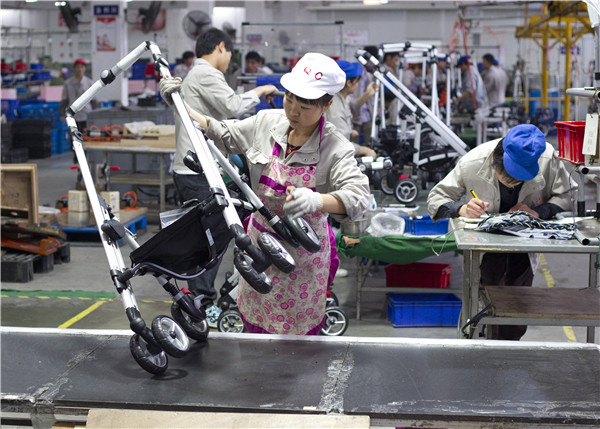 A workshop of Goodbaby Group in Kunshan, Jiangsu province.GAO ERQIANG/CHINA DAILY
Goodbaby Group, China's largest manufacturer and retailer of baby-care products like buggies and safety seats for cars, is looking at potential acquisitions in Japan to increase its market share in Asia.
The Jiangsu-based company has already acquired some production assets in Europe and North Africa in the past couple of years.
"We have been trying for years to make inroads into Japan, but customers (there) are very loyal to some well-established local brands. So, we're considering market entry through acquisitions," said He Xinjun, senior vice-president of Goodbaby.
"Besides, an acquisition is the fastest way to increase exposure and expand distribution network in a foreign market," he told China Daily at a forum against air pollution in Beijing.
He, however, did not disclose the names of Goodbaby's potential targets or the size of its planned investment in Japan.
Japan has many profitable baby-care companies. For instance, Japan's Pigeon Corp, whose baby products are popular in China, has been making profits for four straight years. It was projected to post a 10 percent year-on-year rise in operating profit for the year to Jan 31 to 14 billion yen ($117 million) on sales of 93 billion yen.
Goodbaby recently launched a new model of baby stroller with an air purifier that can be installed in even other brands of carriages.
"The product is only for the Chinese market at the moment," he said. "Though it is new, it has sold very well in some major cities such as Beijing and Shanghai where there is heavy air pollution."
About 70 percent of Goodbaby's business is in overseas markets such as Japan, North America and Europe, with the rest in China.
Though the Chinese child care market is expected to see a big boost in the next decade in the wake of the policy allowing couples to have two children, the company faces sharp competition from overseas companies whose products find favor with Chinese parents.
Experts said compared with international baby-care producers, Chinese brands lag in marketing and branding. Yet, they can build their brands in developed countries by acquiring local brands.
Goodbaby is already the largest supplier of strollers in North America, Europe and China. But it wants to master design and manufacturing as well so it could stamp its name on baby-care products.