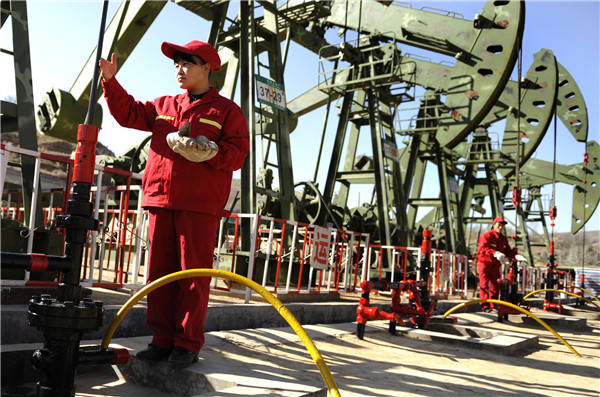 A worker checks facilities of Shaanxi Yanchang Petroleum (Group) Co in Wuqi county, Shaanxi province.XINHUA
Shaanxi Yanchang Petroleum (Group) Co, China's fourth-biggest oil producer by output, may cease production in some oilfields and stop drilling both old and new wells in some areas in response to the sharp plunge in crude oil prices, a media report said on Monday.
The Yan'an-based company faces huge pressure over soaring cost in terms of oil exploitation, personnel and operation. The cost for oil production at Yanchang stands at about $70 per barrel, against a national average of $40, according to sources quoted by Securities Daily.
In order to remain profitable, the State-run company also plans to cut capital spending by a total of 3.1 billion yuan ($480 million) this year and merge at least three oil drilling facilities, the report said.
Yanchang Petroleum lowered its oil output target to 12.2 million metric tons for this year, about 200,000 tons lower than a year earlier, according to a statement on the company's website.
The more than 50 percent slump in global crude oil prices since June has badly hit producer's earnings. Brent crude oil is currently below $30 a barrel, for the first time since May 2009.
Yanchang Petroleum is not the first firm to respond to the price dive by cutting spending or suspending production.
Shengli Oilfield, owned by China Petroleum & Chemical Corp, the nation's second-largest oil major, plans to shut down four oilfields in the country's eastern Shandong province to stay afloat.
The company, also known as Sinopec, said the four oilfields are the least profitable projects in the region with only a few tens of thousands tons of production, and the shutdown could save at least 200 million yuan.
At the same time, Daqing Oilfield, the largest oilfield explored by China's major oil and gas producer China National Petroleum Corp, reduced crude oil production in 2015 for the first time in seven years.
Though it is a painful process to make cuts or even suspend production, it is better to act early than leave it, experts.
"It is a normal practice when oil prices plunge. It is an adaption that oil companies have to make to meet market requirements," said Han Xiaoping, chief executive officer of online energy information portal China5E.com.
He said the cost for oil exploitation has been rising as some wells are getting old, but oil prices have been plummeting even faster, putting huge pressure on many large oil producers.
"Oil companies need to bring costs down in line with the current lower oil prices. Many foreign companies have also made plans to sell off part of their assets or even start drilling fewer wells," he said.
lvchang@chinadaily.com.cn