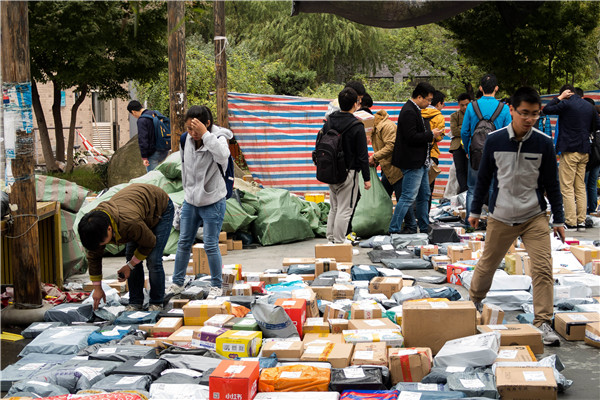 Students collect goods ordered online at a university in Shanghai, a common scene at Chinese universities.WANG GANG/CHINA DAILY
The week-long Spring Festival holiday gave me plenty of time to do shopping online for the Lantern Festival, which fell on Feb 22 when Chinese people ate sweet dumplings for good luck.
I planned to buy some sweet dumplings (tangyuan in Chinese) with different fillings on JD.com, but the customer service reps told me that I might not have my purchase on time. He said the delivery would take longer than usual because of the holidays.
However, when I shared the information with my family it appeared my daughter didn't believe it. She said that she just received chocolates on time from the JD.com express delivery service on Feb 14, Valentine's Day. "It proved that the e-commerce company's express delivery service was working as usual," my daughter added.
In February, the Spring Festival holiday, Valentine's Day and the Lantern Festival fell in the same two weeks, something which made both e-commerce companies and e-shoppers crazily busy. However, the companies' logistics capacity was unable to cope with the massive increase in transactions.
That said, in my casual but extended observation, JD.com and Tmall.com had to concentrate their efforts on promoting transactions for Valentine's Day-related commodities as both of them offered eye-catching links on their websites for shoppers to access hundreds of Valentine's Day-related products. They also gave attractive discounts to lure potential customers.
JD.com, for example, offered a discount of as much as 70 percent for purchases of its rose-themed products during the Feb 10-14 period, in addition to the hundreds of other discounted products for Valentine's Day including clothes, necklaces and digital products.
Tmall.com and Taobao.com, both part of the Alibaba Group Holding Ltd, launched their Valentine's Day promotions earlier this month.
JD.com Inc and Alibaba are the major players in e-commerce in China. Their every single commercial promotion not only has an impact on Chinese consumers' behavior, but also affects the country's businesses, no matter they are brick-and-mortar or online retailers.
Being fully aware of this situation, I changed my mind and turned my attention to brick-and-mortar stores for sweet dumplings, such as my local Wumart store, where I found plenty of choices at acceptable prices.
Why had JD.com and Alibaba treated Valentine's Day as a major sales promotion event but failed to treat the Lantern Festival in the same way?
In this regard, a Taobao merchant offered a credible explanation: "Young people today regard Valentine's Day as a major festival, and they are the major source of our customers, so we must attach primary importance to Valentine's Day-related sales promotions."
An e-commerce expert said that the era of online retailers' crazy promotions for all festivals has gone, as they now pay more attention to niche markets and competitive differentiation.
"Blindly launching a price war will not attract consumer interest, this can only be done by targeting niche markets," the expert said.
By Feb 14, JD.com still had two Valentine's Day sales promotion advertisements on the front page of its website. One ad, "Theme Street", promised express delivery of every single flower gift would only take two hours.
Tmall.com had three advertisements at the top of its websites. They were "Happy Valentine's Day", promoting underwear products, "Gifts for Valentine's Day" for cosmetic products and "A Happy Surprise for Valentine's Day" about sex novelty items.
Accessing the products by clicking the "Gifts for Valentine's Day" logo, I was surprised to find out that Tmall.com even divides its consumers into different groups according to the decade of their birth - the 1970s, 1980s and 1990s. Obviously, consumers like me who were born in the 1960s are considered by the website to be too old to use any cosmetics product.
According to the latest report released by the China Internet Network Information Center, China had 688 million netizens by the end of last year, 60 percent of which had experience of shopping online, and nearly 68 percent were aged between 20 to 49.
Contact the writer at wuyunhe@chinadaily.com.cn