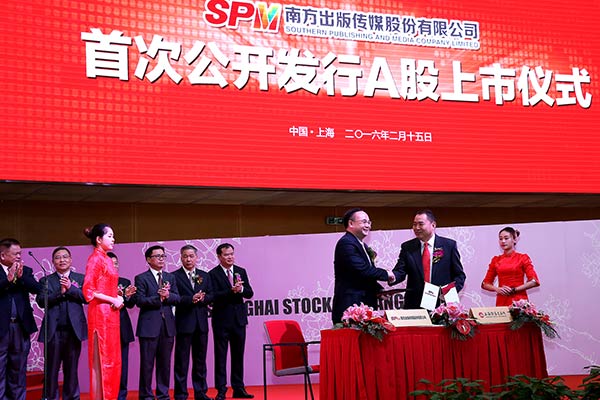 Southern Publishing and Media Co Ltd launches its IPO on the Shanghai Stock Exchange on Feb 15, 2016.[Photo/Xinhua]
Shares in Southern Publishing and Media Co Ltd rose by the 10 percent daily ceiling on their first day of trading on the Shanghai Stock Exchange on Monday, demonstrating strong prospect for the mainland's culture and media industry.
The stock opened at 7.36 yuan($1.12) and quickly rose to its ceiling of 8.83 yuan as markets reopened after the Lunar New Year.
Wang Guike, chairman of the Guangzhou-based company, said he was confident of growing profits in coming years.
"Publishing will continue to be our mainstay, while printing is expected to see steady growth," Wang told a news conference in Shanghai.
"We plan to invest more than 1 billion yuan on five major publishing projects, including in digital education, and in the upgrade of Xinhua bookstores, all of which have rosy futures," he said.
There are also plans to explore the Hong Kong, Macao and Southeast Asian markets in the near future for the first time, Wang said, as well as increasing its cultural products and services activities in European and American markets.
Established in December 2009, Southern Publishing's annual profits grew by an average 39.9 percent between 2010 and 2015.Its sales topped 1 billion yuan last year.
Zhang Zhi'an, dean of the School of Communication and Design at Sun Yat-sen University in Guangdong province, said the company's financial performance suggests investors believed the publishing and media sector is on a strong footing, as many firms continue to gain from government support and preferential policies.
"The good performance of Southern Publishing on its first trading day is a good demonstration of the strength of other publishing and media companies in the sector applying to go public in the near future," Zhang said.
Cai Ling, a researcher at market research firm CI Consulting, said after Southern Publishing's listing, its operation will become a lot more market-oriented.