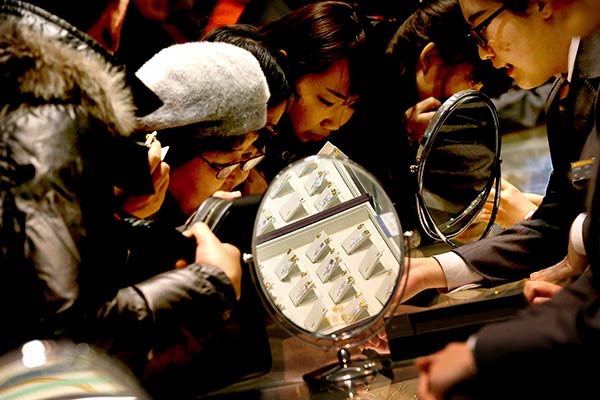 Customers select gold items at a store in Beijing on Feb 14, 2016.[JIANG DONG / CHINA DAILY]
As the price of gold soared over the Spring Festival break, Yang Meiqi, a 62-year-old retiree living in Shanghai, bought four items of gold jewelry for 70,000 yuan ($10,780) in the hopes that the price for the precious metal would continue to rise.
"The average price was about 276 yuan per gram on Feb 4, but it grew so quickly afterward ... that I finally decided to buy some," Yang said.
As China rang in the Year of the Monkey with firecrackers on Feb 8, the price of the precious metal made noise of its own, jumping 2 percent to a seven-and-a-half-month high to eclipse 286 yuan per gram. On Saturday, it climbed to 296 yuan per gram, the day Yang made her purchase. As of Monday, it sits at 340 yuan per gram, according to the Shanghai Gold Jewelry Trade Association.
With stock markets around the world sliding, investors have sought safety in gold. Guotai Junan Securities analyst Ren Zeping said gold tops the list of preferable investment options.
Since the fourth quarter of 2015, global demand for retail investment gold has surged, particularly in bar and coin purchases in China and Europe.
"Investors took advantage of weaker prices amid a softening economic backdrop, financial turbulence and ongoing geopolitical tension," according to the latest annual report on the demand for gold by the World Gold Council.
Alistair Hewitt, head of market intelligence at the World Gold Council, said demand for gold remained resilient in 2015-coming in at 4,212 metric tons for the full year-because of turmoil in stock markets around the world, the first US interest rate hike in nine years and falling oil prices.
"Looking ahead in 2016, physical demand will continue to be supported by strong central bank purchases and the continued purchases of jewelry, bars and coins by households across the world, led by India and China. If we just look at the year to date, the investment case for gold is as strong as ever. While stock markets have wobbled, gold has performed well," said Hewitt.
As many as 13 retailers, miners and processors of the precious metal listed in Shanghai and Shenzhen saw their share prices increase by 10 percent, the limit for one day of growth on Monday, the first day of trading after the Spring Festival break.