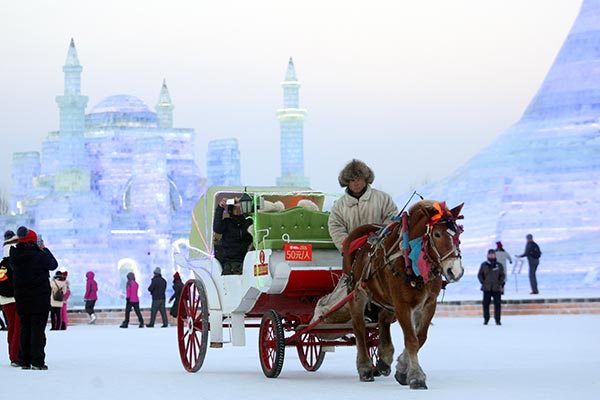 Visitors ride a horse-driven cart at Ice and Snow World in Harbin, Heilongjiang province, on Feb 4, 2016.[Photo/CFP]
Amid temperatures as low as-22 C, China's Internet-savvy northeastern provinces are turning their ice and snow into money-spinners.
Heilongjiang and Jilin, for instance, are using the Web to offer better services for travelers and reach more consumers.
On offer are elaborately carved ice sculptures, skiing and hot springs in wild forests in freezing conditions.
"This year, we launched a virtual project on WeChat (a popular messaging app in China), which allows users to enjoy a 360-degree view of our ice palace online," said Wang Zengyu, the deputy general manager of Harbin Ice and Snow World, a large exhibition of snow and ice art in Heilongjiang.
"We hope the online project can arouse people's interest and bring them here to experience these magnificent offline views," Wang said.
Harbin is partnering with leading online travel sites to offer consumers discount-priced e-tickets that facilitate quick entry into the scenic spot.
So far, more than 600,000 tourists have visited Ice and Snow World since it opened on Jan 5, with ticket sales exceeding 100 million yuan ($15.2 million).
Bu Jing, a 33-year-old visitor from eastern Jiangsu province, said: "My kid was amazed seeing those full-size ice mazes, ice bars and ice hotels. Her joy knew no bounds, seeing them illuminated with colorful LEDs."
The ice exhibition is one of the large number of sites across northeastern China that are benefiting from the country's tourism boom as well as local governments' intensified efforts to transform from "old" industrial bases into popular tourist destinations.
According to the Heilongjiang Tourism Administration, the province received more than 130 million tourists last year, up 21 percent year-on-year, generating 136 billion yuan in revenue.
Neighboring Jilin province is gaining, too.
"In the past five years, visitors to Jilin have been growing at an annual rate of 17 percent," said Zhao Li, deputy director of the Jilin Provincial Tourism Information Center.
"We are trying to meet consumers' every demand, from skiing and shopping to five-star hotel accommodation and convenient transportation."
One of the most popular sites is the Changbaishan International Resort, developed by Dalian Wanda Group Co Ltd and five other partners with an investment of 23 billion yuan.
As of Nov 28, more than 2.1 million people have visited the resort. Hotel rooms are not always easily available because of high occupancy rates.
To better promote the province's winter offerings, the Jilin Tourism Administration uses the Internet a lot. It launched the "Exchanging The Winter" campaign on social media with its counterpart in South China's Guangdong province. In the past two years, they have offered 100 residents from each province free trips to the other region so that Jilin people can enjoy warm winter in Guangdong and vice versa.
"This is an effective way to lure people from the southern regions by helping them to experience the northern winter. Many of them are fans of snow sports," Zhao said.