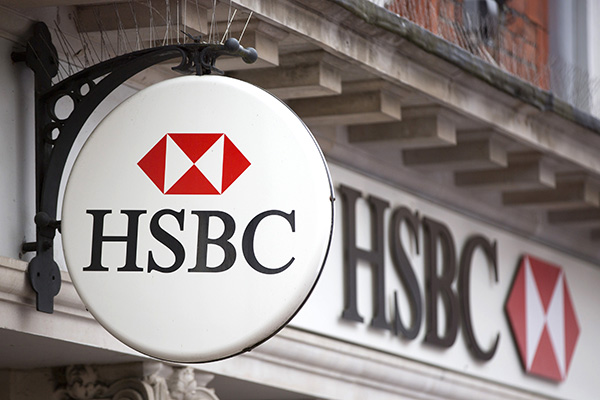 A sign sits above a HSBC bank. [Photo/CFP]
HSBC, Europe's biggest lender, has stopped giving mortgages to some Chinese nationals seeking to buy real estate in the US, a move that comes as Beijing seeks to crack down on money laundering and limit capital outflows.
An HSBC spokesman in New York told Reuters on Jan 27 that the policy went into effect the previous week, roughly a month after China suspended Standard Chartered and DBS Group Holdings Ltd from conducting some foreign exchange business and as authorities try to stem the exodus of capital.
HSBC declined to clarify which clients would be affected by the change, but luxury homes news website Mansion Global, which first reported the HSBC policy change on Tuesday, said it would affect Chinese nationals holding temporary visitor 'B' visas if the majority of their income and assets are maintained in China.
Yangying Zheng, an HSBC loan officer in New York City, said the policy change is largely attributable to cooperative anti-corruption and anti-money laundering efforts by the US and China, according to Global Mansion, which is a standalone site, part of Dow Jones, but independent of The Wall Street Journal newsroom.
"If you are applying under EB-5 (the Immigrant Investor Program)or hold permanent resident status from a third country, you will not be affected," she told the website.
Another loan officer with a US-based branch of HSBC, speaking on condition of anonymity, told Global Mansion that she was notified of the move by her supervisor on Jan 22. "No new mortgage applications will be accepted, but the applications which have been submitted successfully will not be affected," she was quoted as saying.
Chinese buyers make up the largest group of foreign buyers of US real estate, according to the Washington-based National Association of Realtors (NAR), and buy one in every 14 homes worth more than $1 million. In the year ending March 2015, Chinese buyers spent $28.6 billion on American homes, the association said. In total, Chinese spent about $6 billion on real estate in the US last year, $4.5 billion of which was in New York.
The NAR said on Jan 28 that it would have no comment on HSBC's mortgage policy change. But it did comment on the recent announcement by the US Treasury Department's Financial Crimes Enforcement Network (FinCEN) that it would identify and track buyers paying all cash for high-priced real estate in New York City's Manhattan and Miami-Dade County in Florida over money-laundering concerns.
"NAR supports FinCen's continued efforts to combat money laundering and the financing of terrorism," Adam DeSanctis, manager of the NAR's media communications told China Daily.
Sally Mak, CEO of New York Wealth Planning Group and a Certified Financial Planner, told Mansion Global that the HSBC mortgage change will not have a major impact on the luxury real estate business: "Most luxury property buyers from China prefer all-cash transactions, thus they are not subject to US mortgage regulations." But if other Chinese banks follow suit, "It will have a long-term impact on the real estate industry," she added.
Juan Chen of Kian Realty NYC told Global Mansion that she has one client considering a mortgage loan from HSBC who will now "go all cash."
"The policy change from HSBC will indeed affect the market, but not on a large scale. One reason is that most of my clients are all-cash buyers," the Manhattan-based agent told the real estate website. "Another reason is that the number of mortgage-seeking Chinese national buyers is still very limited."