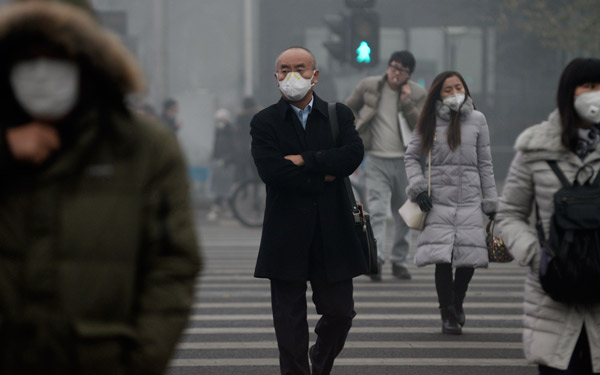 Pedestrians cross the road in Zhongguancun, Beijing, during a smoggy day in December.[Photo/China Daily]
I am even happier than my son when his fall semester finally ends and the winter vacation begins. I won't be puzzled again by my inability to be with him when the red alert for smog is issued and the school is closed.
During the recent two red smog alerts, on Dec 8-10 and Dec 19-22, I had no option but to send my seven-year-old son to my neighbor's home. Though the red alert raises the possibility of a flexible work option, very few Chinese employers have actually taken this up.
I hope working mothers can be allowed flexible working hours on red alert days. That does not necessarily mean that people stop working and generate no productivity. On the contrary, household chores contribute a great deal to family management and to the country's economic growth. Household chores have for long been a missing element in the country's GDP.
The unpaid economy by British housewives and husbands valued by the Office for National Statistics wows the public, according to a report by The Daily Telegraph. The ONS revealed that household clothing and laundry services were worth 97.2 billion pounds ($138.53 billion) in 2012, the equivalent of 5.9 percent of its GDP. Unpaid childcare was worth 343 billion pounds in 2010, three times the contribution of the country's financial services industry.
Meanwhile, men's share of childcare has kept rising in the past decades, which is also a symbol of social progress. The more developed the economy and the better-educated the people, the higher the acceptance of man's role in childcare.
If the concept of the "home office" could be accepted, it would create a very humane workplace environment, enhancing employee loyalty and attract more talent. More importantly, it could greatly improve the urban traffic situation, alleviating pollution and boosting work efficiency.
The "home office" has been a popular working concept in developed economies such as the United States, Europe and Japan, especially in the IT sector and consumer-oriented business among companies such as Hewlett-Packard Co, Xerox Co Ltd, Procter & Gamble Co.
P&G adopted flexible working hours in 2007 and allows its employees to work from home one day in a week. Employees see it as welfare, enabling them to stay cozy, think deeper and do better.
A study by Stanford University and Ctrip found that people working at home performed on average 20 percent better than their office-bound counterparts, according to a nine-month study among 1,000 participants in China.
Returning to the childcare issue. Although a considerable number of Chinese families are capable of picking up their children from school at any time, I feel sorry I can't. I'm a working mom, and the office is 15 kilometers away from my home.
Those who can, mostly depend on the children's retired grandparents, or paid domestic helpers. The gray-haired generation in China is a powerful force to take care of their grandchildren and children, who are and will be the only generation in China's history to be the only-child group, thus receiving lots of attention from their parents.
However, I don't think we should take such care for granted. I'm a strong believer that parents are the only ones supposed to take care of their own children.
Lots of household chores like cleaning, laundry, ironing and even cooking could be outsourced, but not childcare. We should do it ourselves, otherwise, what else should parents do? Raising children is not just about spending money, but also about the time and efforts put in by the parents.
The advance of modern technology and the service sector, has greatly alleviated the burden shouldered by housewives and working moms. But we still constantly feel the pinch between tight work schedule and child care responsibility.
We can have a decent life on a regular basis, but when schools unexpectedly close on non-holiday days, our lives become a a mess. Allowing women who have children studying in schools to choose flexible working hours would be a small step for a company but a big gesture in showing respect to women and building a better society.