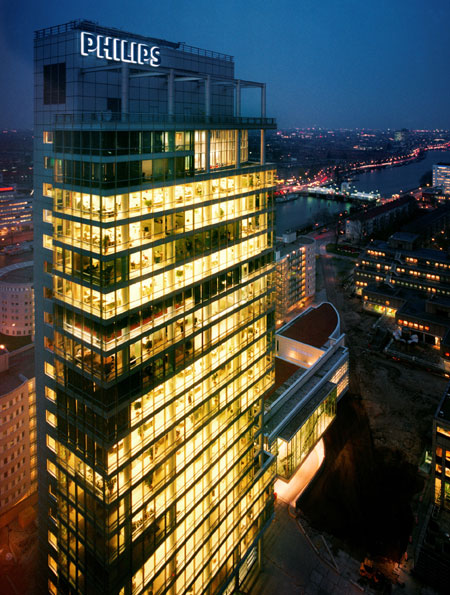 The night view of Royal Philips NV' headquarters in Amsterdam, the Netherlands. [Photo provided to China Daily]
Dutch electronics giant Philips NV plans to expand its research and development efforts to China, with Shanghai playing a major role in the multinational's global R&D network, especially in the innovation of its car air purifier products.
With the severe smog in Chinese major cities recently, Philips saw phenomenal growth in the sales of its car air purifiers, with its products running out of stock several times. In the past five years, the company witnessed an annual sales growth of about 50 percent for its air purifier products in China.
Now Chinese engineers are playing key roles in the creation of its air purifier products, and the company plans to develop the products where the markets are.
"China is a leading country in many aspects. Ten years ago, a lot of core innovations were developed in Europe. We have turned it around right now, we do the core innovations in China," said Albrecht Kraus, mobility accessories business manager for Philips in China.
"China in particular is an attractive market for growth. Chinese consumers are more and more hungry for meaningful innovations with the right quality and the latest technology," he said.
Air purifier products developed in China are exported to Western markets such as the United States and the United Kingdom, and other Asian markets including India.
As the poor air quality in many Chinese cities has become an even more serious problem, the company created car air purifiers that can indicate the Air Quality Index outside and inside the vehicle, as more consumers are well aware of what the index actually means.
China's air purifier market penetration rate is less than 2 percent, which is far behind the global average. The figure is 40 percent in Europe and the US, 70 percent in South Korea, and 27 percent in Japan, according to China Market Monitor Co Ltd, a leading household appliances market research agency.
By 2020, the market scale of air purifiers in China is expected to reach 150 billion yuan ($22.8 billion), with significant market growth potential.
"Many Chinese are not aware that even when the AQI is 80, we still need air purifiers," Kraus said.
Philips has also released innovative technology to integrate car air purifiers with a smartphone app. With the pre-programmed app, consumers can freely control their air purifiers before they get in their car.
Meanwhile, the firm also unveiled its new vehicle headlight products with the latest LED technology.
China has about 170 million private cars, and about one-third of the vehicles in China have Philips products. The replacement rate for these headlights has reached 30 million annually, the company said.
"The trend in automotive lighting will be a transition toward LED lighting and no decrease in their light over their lifespan, in addition to no maintenance, a better beam and better vision," said Jean-Paul Jacobs, general manager of mobility at Philips China.
Philips' latest LED headlight, which is 150 percent brighter than the traditional standard halogen light, will have white beam that is not dazzling, and it will become the brightest LED headlight in the current automotive aftermarket.