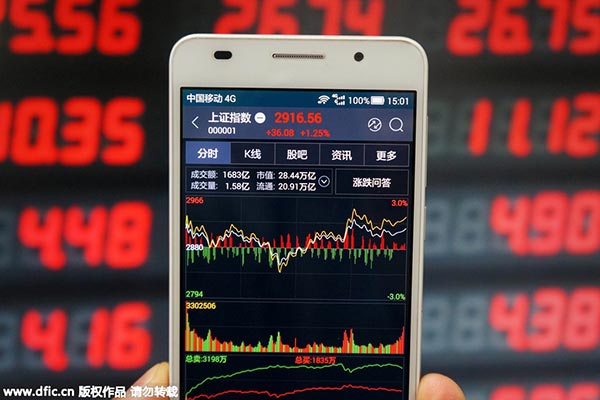 A Chinese investor looks at the Shanghai Composite Index at the close at a stock brokerage house in Huaibei city, east China´s Anhui province, January 22, 2016.[Photo/IC]
SHANGHAI - Chinese shares ended higher on Friday, in a relatively muted response to hints of more policy stimulus in Europe and Japan that prompted a robust rally in battered oil prices and equities elsewhere.
The benchmark Shanghai Composite Index managed a rise of 1.25 percent, following sharp losses on Thursday. The CSI300 index of the largest listed companies in Shanghai and Shenzhen closed up 1 percent.
The indexes veered between positive and negative territory during the day, with little volume behind the trade. The Shanghai Composite did at least end the week marginally higher than it began, for the first time in 2016, but not the CSI300.
Investors appear increasingly reluctant to risk their money on China's fickle markets, which have slumped about 17 percent so far this year, and morning gains have often turned to losses by close of day as traders quickly take profits.
Highlighting the lack of faith in the markets, trading volumes in January have been about a third of typical levels last year, which only exaggerates price movements.
On Thursday, Vice President Li Yuanchao reassured investors that Beijing would use regulations to prevent volatility in a market that was "not yet mature".
"An excessively fluctuating market is a market of speculation where only the few will gain the most benefit when most people suffer," Li, who is attending the World Economic Forum in Davos, said in an interview with Bloomberg.
The stock markets and China's yuan currency have come under pressure as a raft of economic indicators have confirmed the country's declining growth, putting the world's second-largest economy at the top of global investors' worry list along with plunging crude oil prices.
The Labour Ministry provided a rare nugget of good news on Friday, announcing that urban unemployment was unchanged at 4.05 percent, comfortably below the government's target rate, and the job market would remain stable in 2016.
Concerns about another near-term yuan devaluation are slowly fading as the People's Bank of China (PBOC) has steered a steady course for the currency daily midpoint fix in recent weeks. But currency markets remain puzzled over the formula the central bank is using to determine its value and say spot yuan will remain under pressure as the economy continues to cool.
Friday's fix was again barely changed at 6.5572 per dollar.
The spot yuan clung tightly to its previous close, as it has all week, while offshore it weakened slightly to 6.6060, 0.4 percent adrift from the onshore rate.