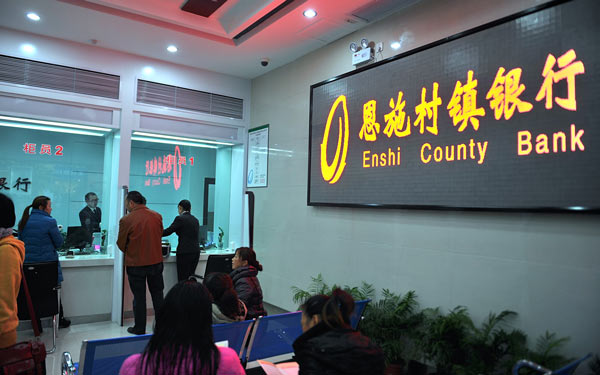 Customers wait for transactions at a local bank in Enshi, Hubei province. [Photo/China Daily]
Increasing numbers of local small banks are set to apply to list on China's third national equity exchange in a move to replenish capital levels amid growing market competition.
Meixian Hakka County Bank Co Ltd, a Guangdong-based county-level lender, became one of the latest names added to the list on Dec 21, after filing an application with the National Equities Exchange and Quotations, better known as the New Third Board.
According to a statement, Hakka County Bank is planning to issue 106 million shares through an agreement transfer to replenish its capital reserves.
The bank's capital adequacy ratio at the end of September was 11.83 percent, close to the 8 percent required under the Basel III, a global, voluntary regulatory framework on bank capital adequacy.
Hakka County Bank's move follows other applications made to the board by Shandong Yucheng Rural Commercial Bank Co Ltd, according to a statement by shareholder and A-share listed company Baolingbao Biology Co Ltd. Yinchuan-based Yellow River Rural Commercial Bank Co Ltd and Changchun Rural Commercial Bank Co are also preparing a listing, according to Securities Times.
So far, 147 financial companies have listed on the New Third Board by Monday, including two local banks: Qilu Bank Co and Kunshan Lucheng County Bank Co, according to data research company Wind Information.
Beijing has been eager to roll out reforms that can help open up the country's capital markets, including interest rate liberalization.
A senior source at a major State-owned commercial bank, who told China Daily on condition of anonymity that he considered listing on the New Third Board "a good way for Chinese county- and township-level, and rural commercial banks to replenish capital and compete in this fierce market, made more competitive by interest rate liberalization". He said some local banks are under severe pressure in the wake of the reforms, and that their capital costs could increase when competing with larger players for funds.
The People's Bank of China, the central bank, lowered the one-year benchmark bank lending rate by 25 basis points to 4.35 percent and the benchmark rate for one-year bank deposits by the same margin to 1.5 percent, effective Oct 24.
"Therefore, they need to finance themselves through the capital market, and the New Third Board has lower listing requirements compared with the Shanghai and Shenzhen stock exchanges," he said.
"In the future, more county, township, and rural commercial banks will regard the New Third Board as an important financing platform," he said.
"Although many of them could find it more difficult to run their businesses due to increased capital cost and may be acquired by bigger players, some of the better ones will be able to create their own innovative products and improve their own risk controls," according to a banking analyst at a leading national investment bank.
Sui Qiang, deputy general manager of the National Equities Exchange and Quotations, recently said: "We plan to perfect the financial service system and increase money supply to small and micro financial companies."