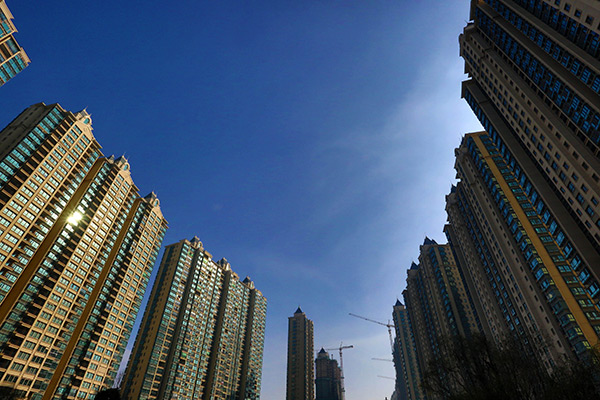 With land prices soaring again in big cities, the picture is even more skewed for the country's property market. The overall property industry in China has struggled with unsold houses and apartments.[Provided to China Daily]
Record prices of big cities' plots don't signal a sound housing market
The return of "land kings"-as plots sold at record prices are dubbed in China-has highlighted duality in the property market.
The overall property industry in China has struggled with unsold houses and apartments, but with land prices soaring again in big cities the picture is even more skewed. In smaller cities the glut of units is greater than that in the big cities.
On Wednesday, a parcel of land for residential development in Shanghai was sold at an auction for 61,000 yuan ($9,547) per square meter of housing, a record high in the metropolis.
On Tuesday, two Beijing land lots were auctioned for prices that approached or even exceeded the average housing prices in their neighborhoods.
There have also been "land kings" in Guangzhou, Nanjing, Hangzhou and other top-tier or second-tier cities in the past few weeks.
Against an overall backdrop of high inventories and falling investment, China's real estate market has clearly become divergent.
The market entered a downturn in 2014 because of weak demand and a supply glut, prompting authorities to take easing measures, including interest rate cuts, reducing down payments and scrapping home-purchase restrictions.
As a result of support policies, property sales in top-tier cities and some second-tier ones have recovered, but the cooling continued in others, especially third-tier cities where a previous market boom led to serious oversupply.
"In first-tier cities, fierce competition among developers has pushed land costs higher than current home prices; it's a typical scene," said Zhang Dawei, chief analyst at Centaline Property Agency.
Sales of land for residential use in 40 major cities in China rose to 37.8 billion yuan in a week during Nov 16-22, up 157 percent from the previous week, according to data from the China Index Academy, a property research organization.
Meanwhile, there remains great pressure to sell empty units. China's unsold homes hit a record 686.3 million square meters at the end of October, up 17.8 percent from a year earlier, official figures show.
In first-tier cities, for every new home sold in October, there were nine unsold homes, and the ratio went up to 12.2 and 18.9 for second- and third-tier cities respectively, according to E-house China R&D Institute.
"The oversupply in real estate is a structural problem, with most inventories built up in lower-tier cities," said Huang Bin, an analyst with property research center CRIC.
To avert risks in those cities, developers tend to move their investment to bigger cities, resulting in the market divergence, Zhang explained.
In the first half of the year, more than 90 percent of funds spent by 20 major property developers on land purchase went to first- and second-tier cities, according to data from Centaline.
An underlying factor behind the market movement has been the flow of migrant laborers to big cities, said Chen Jie, an economist at the Shanghai University of Finance and Economics.
Despite the land fervor in metropolises, some have warned of industrial risks because of high inventories. Market competition in big cities like Beijing will become "brutal," according to a research note from Anbound Consulting.
To address the problem, authorities should adopt differentiated policies, said Meng Xiangyuan, a property researcher at Nanjing Forestry University.
He suggested "stabilizing developers' expectations" for land supply in top-tier cities to rein in the purchase rush, and curbing land supply in lower-tier cities to help digest house inventories. Analysts have also called for faster reforms to the household registration system to accelerate urbanization and spur home purchases.
The future of China's property market has broader implications for the economy. Sagging property investment has dragged down China's GDP growth in the third quarter to a six-year low of 6.9 percent.
Wang Tao, a UBS economist, said in a research note in November that the prolonged property slump was "the biggest downside risk" for China's growth, dampening demand for commodities and machinery.