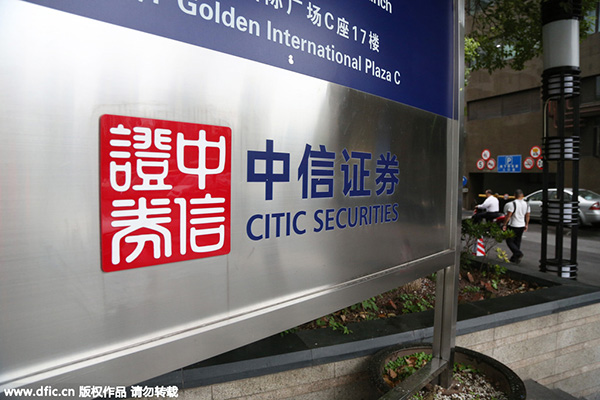 Signboard of CITIC Securities in Shanghai, Sept 22, 2014. [Photo/IC]
CITIC Securities, China's biggest brokerage, and smaller rival Guosen Securities are under investigation by regulators as the government looks to clean up the financial sector.
CITIC and Guosen said the China Securities Regulatory Commission had launched an investigation into alleged violations of securities supervision and management regulations.
The brokerages said in separate filings on the Shanghai and Shenzhen stock exchange on Thursday that they would cooperate fully with the investigations, and that there was no impact on their current operations.
The Securities Association of China (SAC) said on Wednesday CITIC Securities had overstated the value of some of its financial derivatives by more than 1 trillion yuan ($156.51 billion) in its monthly reports from April to September.
SAC said the inaccuracies were in the brokerage's statistical reports on over-the-counter equity swap deals, some of which were carried out during the summer's stock market rout.
In late August, four senior executives at CITIC Securities confessed to insider dealing during an investigation into the market crash, state media reported.
Meanwhile, China Haitong Securities is also under investigation by the country's stock watchdog for alleged violation of securities regulations, two people with direct knowledge of the matter told Reuters on Friday.
The scrutiny follows probes into CITIC Securities and Guosen Securities, two of China's largest brokers.
Haitong declined to comment, saying there will be a statement after the stock market closes on Friday. Trading in Haitong's shares was halted this morning.
Calls and emails to the China Securities Regulatory Commission were not immediately answered.
This week, Xinhua reported that anti-corruption probes had also been launched into Guotai Junan Securities Co Ltd.