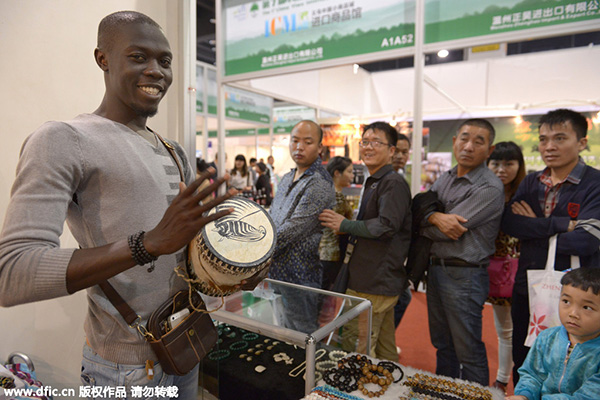 An African vendor sells African handicrafts at Yiwu International Expo Center in Yiwu city, East China's Zhejiang province, Nov 1, 2014. [Photo/IC]
China will import a broader range of goods and commodities from Africa to help the continent further diversify its businesses, a senior Chinese commerce official said on Thursday.
From natural resources to commodity-related products, China will import them all from Africa.
Earlier this week, China offered zero-tariff on 97 percent of commodities imported from seven African countries, including Togo, Liberia, Rwanda, Angola and Zambia. The new tariff will take effect from December 10.
Qian Keming, vice-minister of commerce, said China will offer more assistance, including holding specialized goods exhibitions, to broad-base African exports to China and help African nations build more manufacturing facilities and diversify their economic structures and sales channels.
President Xi Jinping will pay a state visit to Zimbabwe from Dec 1 to 2 and then to South Africa from Dec 2 to 5, where he will chair the Johannesburg Summit of the Forum for China-Africa Cooperation.
According to Qian, the Chinese government is expected to announce a three-year package for cooperation with Africa in industrialization, agriculture modernization, services trade and infrastructure development. It will be the biggest move in China-Africa business history.
"This will be a historic visit of the highest level. It will have a significant influence on China-Africa business ties," said Qian.
China will organize meetings between Chinese and African entrepreneurs and hold an exhibition on equipment manufacturing in the railway, telecommunications and electricity sectors during the summit.
China has been Africa's largest trading partner for six consecutive years, with trade in 2014 reaching $222 billion. The country invested a record high of $4 billion in Africa last year, up 14 percent from a year earlier, data from the Ministry of Commerce show.
"As China-Africa trade cooperation moves into its next phase, there will be significant scope for diversification of our economies and exports, particularly into agriculture and manufacturing," said Robin Mwanga, business information executive of Malawi's national investment and trade center.
"Chinese investment can be instrumental in addressing structural and logistical constraints that affect the competitiveness of African exports," he said.
China has provided African countries with loans worth over $20 billion since 2012 and will continue to provide financing support. At least 2,500 big and medium-sized Chinese companies have registered to operate in Africa across several sectors.
Zhao Zhongxiu, a trade professor at the University of International Business and Economics, said Africa, with a 1.1 billion population and low labor costs, is an ideal place to relocate the light manufacturing sector of China, in line with the current the global value chain moves.