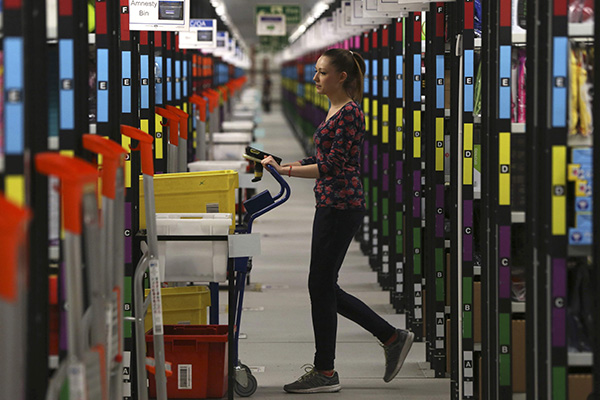 A worker collects customer orders during Black Friday deals week at an Amazon fulfilment centre in Hemel Hempstead, Britain November 25, 2015. [Photo/Agencies]
Though China does not celebrate Thanksgiving or Black Friday, scores of shoppers in the country are banking on overseas shopping agents for the perfect deals in what is arguably the United States' biggest shopping festival.
When the clock strikes midnight, the Black Friday madness will begin at shopping malls and other popular shopping destinations across the US. In China, however, the frenzy and excitement would be more outsourced to overseas shopping agents who ferret out the latest bargains on a host of goods ranging from chocolates to high-end items like iPhones.
Such has been the demand for their services that it is not uncommon to see several leading online shopping sites in China highlighting the availability of overseas shopping agents in the US.
Growing demand for these services has also triggered interest among the overseas Chinese community with some people leaving well-paid careers to become overseas shopping agents for Chinese websites.
A case in point is the San Francisco-based Chinese teacher-turned overseas shoppi8ng agent who refused to reveal his actual identity, except his online nickname of x9bull.
After completing his PhD from the University of California in Los Angeles and teaching at an undergraduate college, he gave it all up to be a part of the thronging milieu on Black Fridays at shopping malls.
His makeover from teacher to overseas shopping agent happened after his girlfriend convinced him to become a buyer for online shopping site Ymatou, a Shanghai-based platform that connects Chinese consumers and overseas retailers.
The rewards and returns from his new profession outstripped all his expectations, he said. It also earned his girlfriend a scholarship in economics from the University of California at Berkeley, partly because of her buyer experience.
Ymatou has hired more than 20,000 buyers this year to shop at malls, outlets and boutiques for discounted designer clothing, bags and fine jewelry for Chinese consumers during Black Friday.
"My earnings from Black Friday ... and the money I make during the shopping season from November to January, are good enough to support me for a major part of the year," he said.
"We have established good ties with sales assistants of various brands and at stores. One or two days before Black Friday, we will know about the availability of the sought-after products and the exact quantities available. Our connections help us snap up these products quickly."
An agent's typical day starts at 7:30 am, and the first thing he does is to check his cell phone and reply to customers' queries.
Then he takes notes of the things he needs to purchase during the day and proceeds to the shopping malls. After he starts shopping, he takes pictures of the products and posts them on social media for the buyers.
Once the purchases are made, they are sent to the cargo terminal of Ymatou for onward shipment to customers in China. The agent, in most cases, ends his day at about 2 am.
x9bull admits that given a chance he would still like to be a teacher, and would go back to teaching after his girlfriend graduates and takes over from him.
Zeng Bibo, chief executive of Ymatou, said the Singles Day spree on Nov 11 has shaped online shopping habits of Chinese consumers.
"Black Friday is a very good opportunity. I believe that more e-commerce retailers will join the Black Friday event next year," said Zeng.