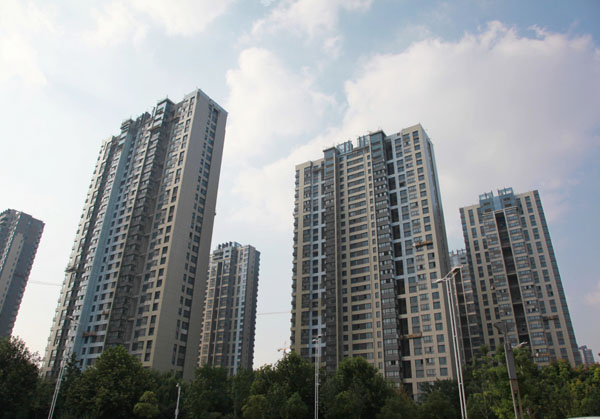 A housing project in Nanjing, capital of East China's Jiangsu province, Sept 21, 2014. [Photo/Asianewsphoto]
BEIJING - The return of "land kings" -- as plots sold at record prices are dubbed in China -- has highlighted duality in the property market.
With the overall industry still under destocking pressure, land prices are soaring again in big cities after being subdued during the downturn, while inventories are still mounting in smaller cities.
On Wednesday, a parcel of land for residential development in Shanghai was sold at auction for 61,000 yuan ($9,547) per square meter of housing, a record high in the metropolis.
On Tuesday, two Beijing land lots were auctioned for prices that approached or even exceeded the average housing prices in their neighborhoods.
There have also been "land kings" in Guangzhou, Nanjing, Hangzhou and other top-tier or second-tier cities in the past few weeks.
Against an overall industry backdrop of high inventories and falling investment, China's real estate market has clearly become divergent.
The market entered a downturn in 2014 due to weak demand and a supply glut, prompting authorities to take easing measures, including interest rate cuts, reducing down payments and scrapping home-purchase restrictions.
As a result of support policies, property sales in top-tier cities and some second-tier ones have recovered, but the cooling continued in others, especially third-tier cities where a previous market boom led to serious oversupply.
"In first-tier cities, fierce competition among developers has pushed land costs higher than current home prices; it's a typical scene," said Zhang Dawei, chief analyst at Centaline Property Agency.
Sales of land for residential use in 40 major cities in China rose to 37.8 billion yuan last week, up 157 percent from the previous week, according to data from China Index Academy, a property research organization.
Meanwhile, there remains great pressure to destock. China's unsold homes hit a record 686.3 million square meters at the end of October, up 17.8 percent from a year earlier, official figures show.