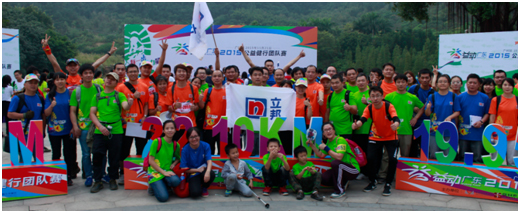 Nippon Paint China takes part in the walking event "Walking Proud" in Guangzhou for the first time. [Photo provided to chinadaily.com.cn]
More than 200 staff volunteers of Nippon Paint China, a member of Nipsea Group, took part in a walking event called "Walking Proud" held in Guangzhou, Guangdong province on Nov 21.
The charity walk, with three routes of 7, 20, and 22 kilometers, started off at Longyandong Forest Park. The participants were divided into four-member groups. Each group was challenged to complete themission of raising at least 1,000 yuan ($156.26), all to be used for charity programs on the united fundraising platform.
Nippon Paint China's 200 staff volunteers were comprised of 40 walkers, 50 support staff and over 100 cheerleaders. As the climb got steeper, Nippon Paint China walkerstramped for 10km in sweat soaked shirts, cheering each other on despite their exhaustion to fulfill their commitment to corporate social responsibility(CSR).
All the 40 walkers finally finished the 20-km route in seven hours despite the rough road, buoyed by the support staff's offers of food and water, the cheerleaders' cheers, and the photographers' efforts to capture their walking moments.