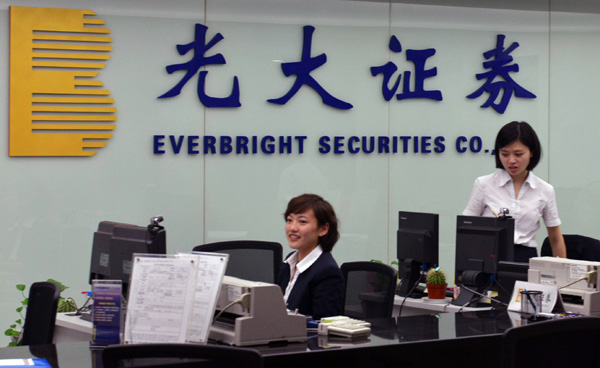 A "fat finger" trading incident involving more than 7.2 billion yuan ($1.17 billion) at Everbright Securities Co Ltd on Aug 16, 2013 exposed regulatory flaws and weak links in the workings of the nation's capital markets. [Photo / China Daily]
SHANGHAI - A Shanghai court on Friday ordered Everbright Securities to pay 660,000 yuan ($100,390) to 18 investors over insider trading in 2013.
The Shanghai No 2 Intermediate People's Court also approved the withdrawal of lawsuits of five investors in the first-instance verdicts, and heard compensation lawsuits of 31 other investors against Everbright.
On Sept 30, six investors each received compensation ranging from 2,220 yuan to 200,980 yuan from Everbright, according to the verdicts issued by the same court. Two lawsuits were rejected.
On Aug 16, 2013, Shanghai Composite Index suddenly surged six percent in three minutes with financial blue chips soaring about 10 percent. The unusual performance was traced to money pumped in by Everbright.
The securities firm later said an arbitrage system operated by its proprietary trading team had malfunctioned.
In November 2013, China's securities watchdog identified the operation as insider trading and other violations, and slapped the company with record penalties totaling 523 million yuan.