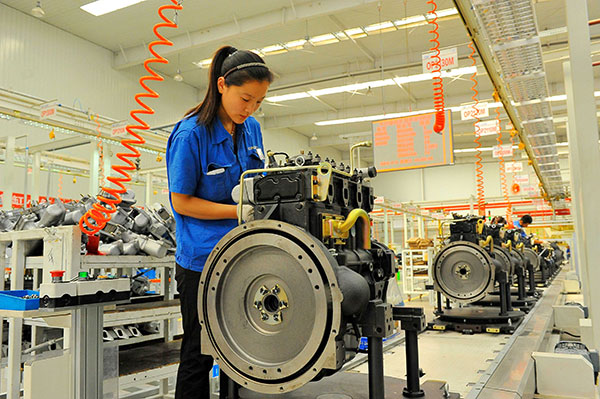 Workers assemble engines at a factory in Weifang, Shandong province. [Photo/China Daily]
It will be an enormous achievement for China if the world's second-largest economy can grow at 6 to 6.5 percent over the next five years, said Bert Hofman, World Bank country director for China, Mongolia and Korea, on Monday.
"Aiming too high will put China's economy at risk," Hofman said at the Beijing Forum for Emerging Markets, as the country will roll out its 13th Five-Year Plan starting in 2016.
China's GDP grew 6.9 percent in the third quarter, slightly beating expectations but marking the slowest growth since 2009, the National Bureau of Statistics announced on Monday.
China's slowdown is expected, as its economy has grown to a different level far above seven years ago, the economist said, adding that judging by purchasing power parity (PPP), it has already become the world's biggest economy.
"China will become the No. 1 economy in dollar terms by 2020 to 2030," Hofman said. "Its contribution to the world is as large as seven years ago."
There have been positive signs on the economic rebalancing and China's moving up in the value chain, he said.
The added-value of the services industry accounted for 49.5 percent of the country's GDP in the first half of 2015, and such a figure is expected to surpass 50 percent by the end of the year.
However, one of the biggest issues on China's policy agenda is rising inequality, Hofman noted. "It started at the Swedish level and now comes in at the US level."
The rising middle class in China will be a major driver for consumption, he said.