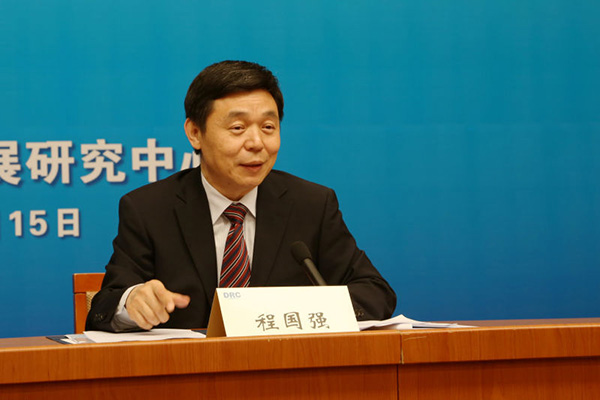 The Silk Road Forum 2015, to be held in Madrid from Oct 28 to 29, is expected to help advance the Belt and Road Initiative proposed by President Xi Jinping in 2013 and promote regional cooperation, said Long Guoqiang, vice-president of the State Council's Development Research Center, at a news conference on Thursday.
The event, jointly hosted by the Development Research Center, the Center for International Relations and Sustainable Development and the Chinese embassy in Spain, will thus far welcome more than 200 renowned scholars, government officials, corporate executives, international organizations' leaders and representatives of think tanks from some 30 countries along the proposed Silk Road Economic Belt and the 21st Century Maritime Silk Road, according to organizers.
With an aim to build cooperation on infrastructure and industry in the region and to promote the construction of the modern-day Silk Road, the forum will discuss challenges in planning and construction, standards and rules for access to an expanded regional infrastructure network, innovative modes for multilateral financial cooperation, industrial needs, and collaboration in green production sectors.
Discussions will also focus on cultural tolerance and coordinating economic models of growth, social development and environmental protection, said Cheng Guoqiang, head of the center's International Cooperation Department.
Nearly 30 "heavyweight speakers" will share their insights at the forum, Cheng said.
An international "Silk Road think tank network" will be founded during the forum as part of an aim to integrate global expertise to advance the Belt and Road Initiative, he said.
With 33 founding members from more than 20 countries in the region including Russia, Kazakhstan, India, Turkey and Germany, as well as three partner institutes thus far, the network will help build a mechanism for exchanges, cooperation and information sharing, he said.
It will signal the first step toward building up a Belt and Road platform for international cooperation between think tanks, Cheng said.
"Regional cooperation has become a trend worldwide over the past decade, with more than 100 related accords signed," DRC Vice-President Long said.
The Belt and Road Initiative involves more than 60 countries and a combined 4.3 billion people that is responsible for over one-third of the global GDP.
Countries in the region have complementary advantages in natural resources, population and industry that will lay a sound foundation for regional cooperation, he said.
The majority of the members are developing countries and have a shared desire for growth, he added.