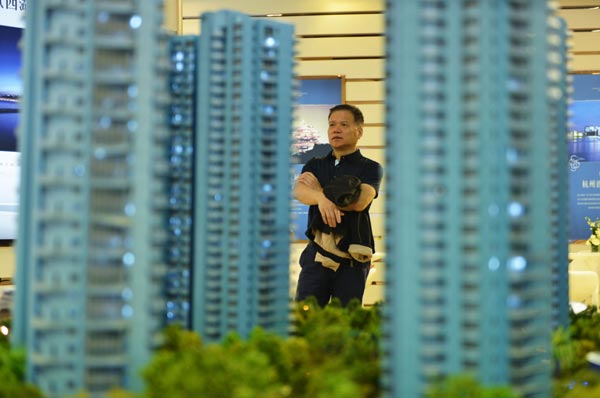 A man examines property models at a housing sales center in Hangzhou, capital of Zhejiang province. [Photo/China Daily]
Chinese residents' willingness to buy homes has weakened slightly compared with seven months ago, according to a survey by UBS AG, and sales growth next year is expected to slow to 5 percent.
The study, based on online interviews with 3,334 consumers in August, found that intent to purchase declined from when such a survey was last conducted but it did not specify exact numbers.
The report claimed the reduction is due to a third of respondents saying they had bought a home in the past seven months. The bank estimates sales growth in the next year will fall from the 8 percent recorded in the first eight months of this year.
Ding Xiao, a property analyst with UBS China Equity Research, said the slowdown is not a major concern because the long-term trend is that sales will soften in the next few years.
The survey also showed that despite perennial complaints about the affordability of homes, ownership across China has grown to around 65 percent, the third highest in the world. Three quarters of Chinese households do not have an outstanding mortgage.
Ding suggested the down payment requirement for first-time buyers could be further eased, from the current 25 percent to 20 percent.