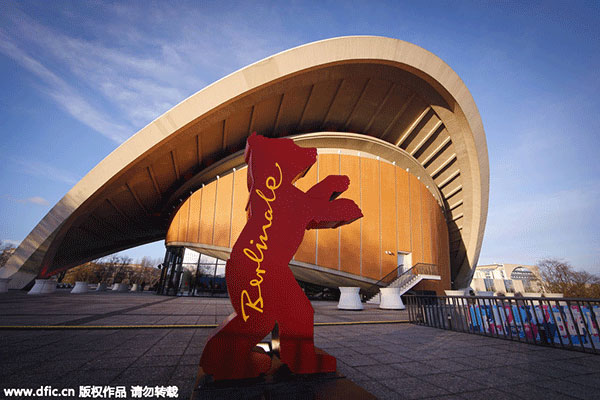 Berlinale Bear at the House of Cultures in Berlin during the 64th Berlinale on Feb 9, 2014. [Photo/IC]
More than 20 Chinese business leaders started an eight-day visit to Germany and Italy from October 13 to 22 on Tuesday in Beijing.
Ma Weihua, President of China Entrepreneur Club, and former President of China Merchants Bank, is leading the group, which includes Guo Guangchang and chairman of China's juice producer Huiyuan Group Zhu Xinli.
Seeking business cooperation is a major purpose of the visit. The delegation will meet with senior government officials, and attend meetings hosted by key business associations in Germany and Italy, such as the Federation of German Industries (BDI) and Confindustria in Italy.
The team will also visit renowned enterprises in these two countries, including SAP, BMW, FC Bayern Munich and Antinori. During the Expo Milano 2015, the delegation has organized a "China Business Day" event in association with the China Council for the Promotion of International Trade and the Expo ChinaPavilion.
"The delegation represents outstanding Chinese entrepreneurs in industries covering agriculture, software, real estate, entertainment and investment. We aim to enhance mutual understanding and communication, while uncovering investment and cooperation opportunities in key industries." Ma said at a news conference on Monday.
According to Ma, the global economy is still struggling to recover. Global business faces serious issues in embracing sustainable development. China's economic growth is widely concerned by the world. He stressed that it is under this situation, Chinese enterprises shoulder important missions. The key to the upgrade and transformation of the state is that the upgrade and transformation of enterprises. Chinese and overseas entrepreneurs must work together to make contributions to the world economy.
At the news conference, Ettore Francesco Sequi, Italian Ambassador to China, and Frank Rückert, Minister and Head of the Economic Department of the German Embassy to China, spoke on the visit to Italy and Germany.
"Italy and China have long history and deep traditions. 2015 marks the 45th anniversary of the establishment of Italy and China's diplomatic relations. Moreover, as the Milan expo is held in Italy, Italy and China will find more potential and new cooperation opportunities. I hope this visit will further boost our cooperation." said Sequi.
"China is Germany's biggest trading partner in Asia, and Germany is China's biggest trading partner in Europe. Both countries are major global exporting countries and have highly complementary economies. Germany is particularly advanced in modern production technologies. In our Industry 4.0 strategy we are now working on the international integration and digitalization of production processes. Germany's technological edge and innovative strength makes it an attractive investment destination, and we highly welcome Chinese companies to invest in Germany." said Frank Rückert.
The annual International Visit initiated by China Entrepreneur Club is distinguished as the group is composed of primarily private entrepreneurs in China. Since 2011, CEC delegations have successfully visited the US, UK, France, Belgium, Australia and Singapore, reaching out to the most influential political, business and academic institutions. The visit has become the most representative public diplomatic activities in China's business circles.
The China Entrepreneur Club is the premier business leader platform in China. Established by 31 of China's most influential entrepreneurs, economists and diplomats in 2006, the CEC is a hub for Chinese entrepreneurial exchange, cooperation, and international collaboration.
CEC members represent the first generation of modern Chinese entrepreneurs, its 47 dynamic companies earning a total annual gross income of over two trillion yuan.