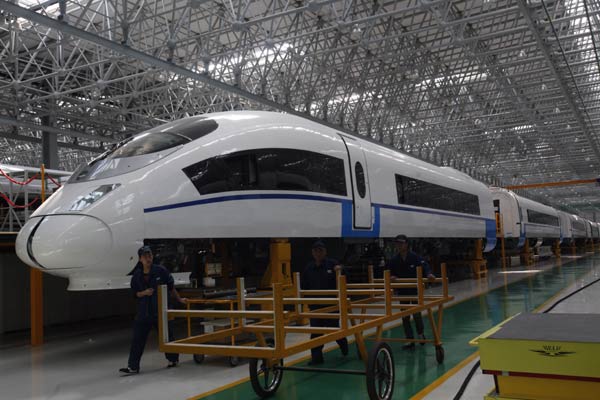 A high-speed train at a workshop of China North Locomotive and Rolling Stock Industry (Group) Corp in Changchun, Jilin province.[Provided to China Daily]
A nationwide audit shows that 23.7 percent of the key construction projects aimed at helping China's economy maintain stable growth are behind schedule, China's top auditing authority said on Thursday.
The National Audit Office published the results of an audit that was conducted in August in 29 province-level regions, 29 central departments and seven State-owned enterprises to assess their implementation of growth-stabilizing measures.
The findings came as the central government has accelerated spending on major infrastructure projects as part of an effort to arrest the slowdown in economic growth.
It has introduced a series of measures to stabilize growth, promote reforms, adjust structures, improve people's livelihoods and reduce economic risks.
The slow-moving projects, 193 altogether, include key railway, road and telecommunication infrastructure involving a total investment of 286.9 billion yuan ($45.2 billion), the audit report said.
As of the end of August, 99 of 333 railway projects under construction were not even halfway through their annual plans, the report said. The projects involved 173.7 billion yuan in planned spending for the year.
Construction of seven sections of the State highway system in four provinces has not even started.
Progress on data centers for China Mobile, China Unicom and China Telecom also failed to meet expectations.
Only 5.7 percent of the 12.43 billion yuan allocated in the central budget for water-saving agricultural projects had been used by the end of July.
Meanwhile, small and micro businesses continue to experience difficulty in getting loans. Some commercial banks did not finance enough such business, and approval processes were too long, the report said.
The State Council's inspection team said poor preparation work is to blame for delays in some of the infrastructure projects, Xinhua News Agency reported in July. In one case, for example, the builders of a subway encountered unexpected problems that may have been avoidable with better planning.
In some big cities, getting permits for projects is still a complicated and lengthy process, auditors said.
With a cooling property market and falling external demand in a tepid global recovery, China's economy has hit a soft patch, growing only 7 percent in the first six months, the slowest pace in nearly a quarter-century.