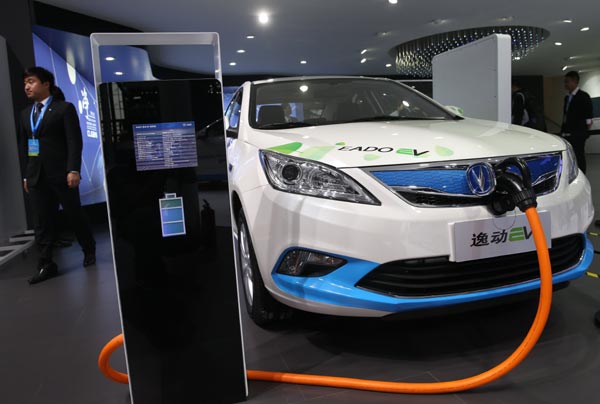 A Changan electronic car, one of the domestic brands, on display at the Shanghai auto show. Domestic automakers unveiled 51 vehicles, nearly a half of the new-energy cars at the event. The sector is becoming extremely competitive in the China with foreign players snatching the lion's share of the market. [Photo/China Daily]
BEIJING - China's new energy vehicles (NEVs) are shifting into high gear fueled by a string of favorable policies, with strong sales despite a lackluster automobile market.
The State Council, China's cabinet, asked local authorities on Tuesday to lift purchase restrictions and remove traffic controls for NEVs, while retaining curbs for cars running on fossil fuels, to stimulate sales and development of eco-friendly vehicles.
Buyers of electric cars will be able to obtain license plates without applying through the usual lottery systems in place in some major cities. In Beijing, 40 percent of applicants obtained permits to buy NEV cars in August, while the acceptance rate for traditional car buyers was only 0.5 percent.
China will encourage local governments, public institutions and bus companies to use more NEVs, according to a statement released after a State Council executive meeting chaired by Premier Li Keqiang.
"These measures are aimed at relieving China's energy and environmental pressure, boosting green vehicle production and consumption, and fostering new growth areas," the statement said.
The move marked the second straight week for China's policymakers to discuss perks for greener vehicles at a top-level government meeting.
On Sept 23, the government promised to build more charging stations in urban areas and fast-charge facilities between cities. New residential complexes should build chargers or save space for them, while no less than 10 percent of public parking lots should have charging facilities.
At the meeting, it was also decided that authorities will provide tax and land support and welcome private investment in the charger-building project.
Encouraged by preferential policies, shares of NEV producers and firms in upstream and downstream sectors rose on Monday. BYD, a Shenzhen-based pure electric car maker, opened over three percent higher.
China has been promoting the use of NEVs with subsidies and tax cuts in a bid to cut emissions and save energy, and the sector saw explosive growth in the past two years.
In the first eight months of 2015, NEV sales surged 270 percent to 108,654, according to the China Association of Automobile Manufacturers (CAAM).
Li Jin, chief researcher with the China Enterprise Research Institute, expects the new measures to further push NEV development, ease pressure on the environment and facilitate the upgrade of automobile manufacturing.
Despite years of support, NEVs are still a reluctant choice for car buyers due to exorbitant prices and inconvenient charging. As for car makers, production costs remain high and technologies are not yet mature.
Dong Yang, vice president of CAAM, advised authorities to expand favorable measures to benefit more buyers, such as including plugged-in hybrid cars on the list and promoting lower-emission cars for air pollution control.
In addition, experts believe a robust NEV sector is possible to shore up the gloomy automobile market. China's automobile production and sales continued year-on-year drops for a fourth month in August, down 8.4 percent and 3 percent in August respectively.