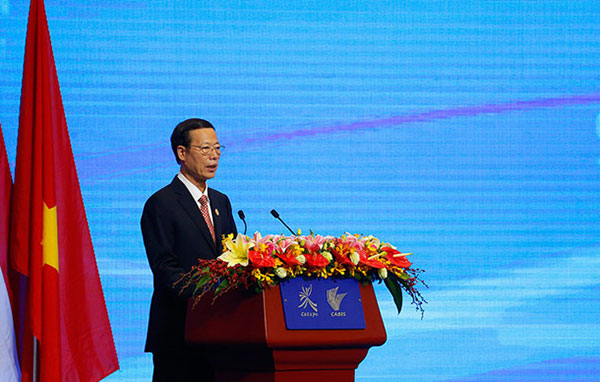 Vice Premier Zhang Gaoli delivers keynote speech at the opening ceremony of 12th China-ASEAN Exposition in Nanning, Guangxi Zhuang Autonomous Region, Sept 18, 2015. [Photo/people.cn]
The 12th China-ASEAN Exposition kicked off on Friday in Nanning, Guangxi Zhuang autonomous region, with the focus on "One Belt One Road" initative and promoting cross-border synergy in production.
2015 marks the China-ASEAN Maritime Cooperation Year when "One Belt One Road" began to be implemented. The four-day 12th CAEXPO will feature the 21st Century Maritime Silk Road as its main theme. Opening ceremony, series symposiums between government officials and CEOs, Maritime Cooperation Achievement exhibition and culture exchange and trade forum will focus on the main theme of the 12th CAEXPO.
Vice Premier Zhang Gaoli launched China-ASEAN Information Hub and delivered a keynote speech during the opening ceremony.
"China and ASEAN countries are close neighbors and natural partners. The Maritime Silk Road discovered by our ancestors 2,000 years ago deepened cooperation and exchange of our regions," said Zhang Gaoli. "China and ASEAN will further cooperate in trade and economic development, work together to upgrade China-ASEAN free trade zone, lower trade barriers, improve investment environment and increase trade volume and bilateral investment. China and ASEAN countries will work together toward 2020's target of $1 trillion in trade volume and $100 billion new investment to ASEAN countries."
The CAEXPO contributed significantly to the Golden Decade of China-ASEAN Cooperation, and boosted China-ASEAN trade and investment. By the end of 2014, trade volume between China and ASEAN surpassed $480 billion, a 8.23 percent growth year-on-year and bilateral investment reached $12.4 billion.
"2015 is a very special year for ASEAN. By the end of this year, ASEAN will become one community, a single market and production base. The integration of ASEAN countries will bring vast investment opportunities, and the region will become top agriculture production base in the word. China can benefit greatly from this integration. China-ASEAN free trade agreement and regional strategic partnership will play an important part in the future cooperation. Thailand believes it is mutually beneficial for China and ASEAN through deeper cooperation in industrial production," said Tanasak Patimapragorn, Deputy Prime Minister and Foreign Minister of Thailand, Country of Honor of the 12th CAEXPO.