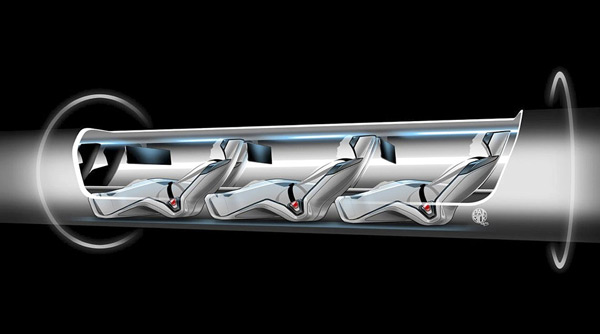 An image released by Tesla Motors, is a sketch of the Hyperloop capsule with passengers onboard. [Photo/Agencies]
Transportation time between Beijing and Shanghai could shorten significantly, if tech magnate Elon Musk's wild idea about next-generation travel, or transporting passengers in capsules, becomes a reality.
Hyperloop Transportation Technologies Inc, a United States-based company that specializes in supersonic transportation systems, is considering a hyperloop project between Beijing and Shanghai.
"We are speaking with certain parties in China," said Bibop G. Gresta, deputy chairman of HTT, on Tuesday. "In terms of the distance and the density of travelers, the trip from Beijing to Shanghai is one of the most ideal routes to build a hyperloop project."
The concept of the hyperloop project is to let passengers travel in a low-pressure tube at the speed of sound. Once applied, the project in theory can reduce the 1,500-km, two-hour Beijing-Shanghai flight trip time by half.
"Each tube can transport 24 million people a year and we plan to have seven tubes. Basically, we can transport seven times more people from Beijing to Shanghai than flights," said Gresta on the sidelines of the 2015 Global Innovator Conference in Beijing.
He declined to offer more details, but said he will visit Shanghai later this week to meet potential partners. "We have started discussions, but we can't disclose with whom," said Gresta.
But it remains unclear if the government would support the project. China has been enthusiastic in building self-developed high-speed railways and exporting the technology to other markets.