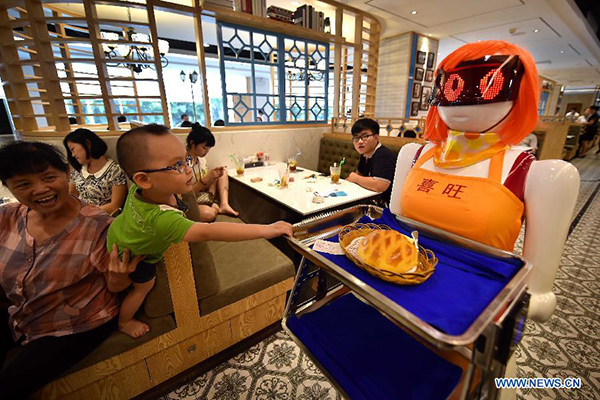 A boy is fascinated by a robotic waitress at a restaurant in Haikou, Hainan province. [Photo/Xinhua]
As China's population declines, experts are calling for more research into artificial intelligence, big data and smart manufacturing to maintain an economic and industrial edge and to drive development.
China's rapid development means it's no longer unusual to see fixed robot arms working around the clock, performing simple, highly repetitive tasks, such as welding and moving components on a typical production line.
For the factories, robots make good employees; they work long hours, don't claim wages and never complain. Meanwhile, for an aging China, with its declining birth rate, robots, particularly the industrial kind, may offer a solution to a looming labor shortage that could potentially drag down economic growth over the long term.
The expected population shortfall has prompted widespread concerns that China will be over the hill before attaining its goal of becoming the world's leading economy. In response, the central government has relaxed the three-decades-old family planning policy that restricted most couples to one child.
Lu Jiehua, professor of sociology at Peking University, ruled out the possibility that the new policy will be the game changer that reverses the population decline, citing a change in public attitudes toward reproduction and family size.
By April, only 1.37 million of the 11 million couples eligible to have a second child had filed an application, according to the National Health and Family Planning Commission.
Official statistics showed that China's potential workforce, people ages 16 to 59, peaked around 2011, and has been in decline since. At the same time, the number of people working has been declining as a proportion of total population.
Last year, there were 916 million people between the ages of 16 and 59 in China, roughly 66 percent of the entire population. The proportion hit a peak of 74.5 percent in 2010, and has been falling ever since.
Lu's perception that robots offer a relatively simple solution to the problem is shared by other experts, such as Wang Weiming, deputy director of the Equipment Department at the Ministry of Industry and Information Technology.
"The development of the robotics industry will solve the labor shortage in China efficiently, thus reducing labor costs for manufacturing industry," Wang said, adding that skilled workers only account for 13 percent of national employment, resulting in a shortfall of 33 million people.
Despite the fact that manufacturers are offering ever higher salaries, the majority of young people are unwilling to engage in labor-intensive occupations.
An industrial robot, however, can do the work of an average six skilled workers on two shifts on a production line.