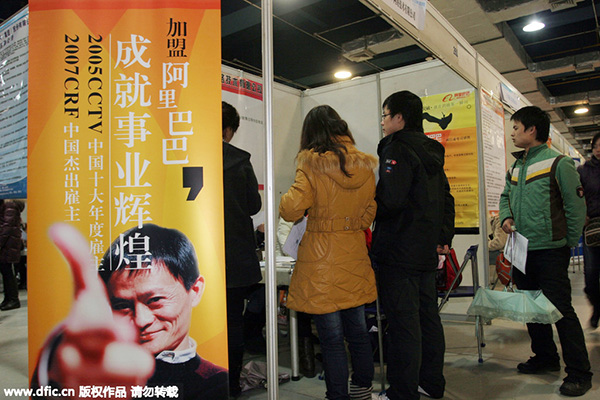 An Alibaba Group Holding Ltd stand at a talent fair in Wuhan, Hubei province. The e-commerce company said it has given 1,407 job offers to graduates and will have more to offer this year. [Photo/IC]
Firm denies it has taken a hit from the economic slowdown, claims payroll was already too large
Amid the decline in its share price in New York, Chinese e-commerce giant Alibaba Group Holding Ltd has announced a cut in its campus recruitment quota.
With the original goal of recruiting more than 3,000 fresh graduates in 2016, the Hangzhou-based company said on its official campus recruitment website that the recruitment quota will "shrink due to changes in the group's talent strategy" and "those who were likely to be recruited will have to face tougher competition".
Alibaba did not give any specific numbers, but in an e-mail reply to China Daily on Monday, it said that it has already made 1,407 offers and it is expected to make another several hundred based on potential candidates' test results.
The company denied market speculation that it was planning to cut the salaries offered to candidates in a bid to drive them away.
Alibaba said that its salary package is based on supply and demand in the human resources market, and the overall salary standards for college graduates are also taken into consideration.
The company explained the changes to its recruitment plan in a statement, saying it recently reviewed its business, organization and team only to find that "it has more people than it needs".
The company, which in mid-August announced a $4 billion share repurchase program over the next two years to restore investor confidence, said it is still on a sound development track, but it has to rethink its talent strategy in order to avoid becoming an overstaffed organization.
Analysts said the changes to Alibaba's campus recruitment plan are in line with the difficulties it faces.
Lu Zhenwang, an independent Internet expert and chief executive officer of Wanqing Consultancy in Shanghai, said that just like other tech and Internet companies in China, Alibaba faces major challenges if it wants to maintain the kind of rapid development it has enjoyed in the past few years.
"Alibaba is expected to see growth in its new online shoppers peak by the end of 2015. Its future growth will need to come from the increase in online spending rather than growth in new users," he said.