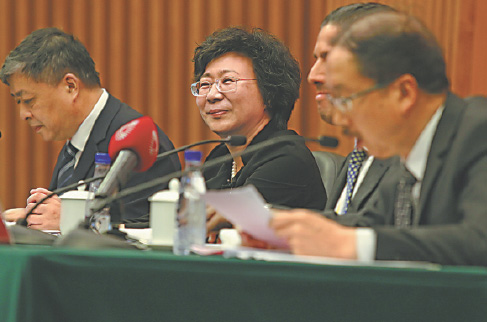 Government officials at a news conference ahead of the 2015 China International Fair for Investment and Trade that is scheduled to open in Xiamen, Fujian province, on Tuesday. [Photo/China Daily]
The 2015 China International Fair for Investment and Trade is aimed at developing more potential sources of investment through programs offering both domestic and foreign companies new market growth opportunities.
The fair, held in Xiamen, Fujian province, from Tuesday to Friday, is expected to build a flexible platform for Chinese companies to tap overseas markets, increase China's outbound direct investments to other global destinations and attract quality foreign direct investment and technologies into the country.
Much of these opportunities come from China's recent moves to develop its markets, such as supporting e-commerce businesses, the establishment of the Asian Infrastructure Investment Bank, new free trade zones and the Belt and Road Initiative.
E-commerce businesses grew rapidly around the world last year, with transaction volume within the Chinese market reaching 1.3 trillion yuan ($205 billion).
The Ministry of Commerce predicted that the total transaction volume generated from China's e-commerce businesses will reach 1.8 trillion yuan by the end of the year.
Ni Chao, vice-mayor of Xiamen, said she hopes more leading Chinese and foreign e-commerce companies seal deals during the four-day fair.
The establishment of the Xiamen Area of China (Fujian) Pilot Free Trade Zone has enabled cross-border e-commerce to thrive in the city.
Many industrial parks have been set up in Xiamen to form a cluster of e-commerce companies. Bonded warehouses have been built to facilitate the growth of e-commerce.
"China has also been keen to take decisive measures to diversify investment, trade, regional connectivity and economic integration with countries along the Belt and Road trading routes and enable easier domestic market access for foreign companies," Ni said.
The Silk Road Economic Belt and 21st Century Maritime Silk Road were proposed by President Xi Jinping in 2013 with the purpose of rejuvenating the two ancient trade routes.
The Belt and Road Initiative has reached a critical stage of implementation with over 50 countries already expressing interest in taking part this year. China invested $7.05 billion in 48 countries such as Singapore, Indonesia, Kazakhstan and Russia, all of which are situated along the proposed routes, between January and June of this year, up 22.2 percent on a year-on-year basis.