Factory activity contracted in August, after five successive months of expansion, indicating that China's economy will face more downward risks in the third quarter of the year, experts said.
The official manufacturing Purchasing Managers Index dropped to 49.7 last month, the weakest in three years, the National Bureau of Statistics said on Tuesday.
It declined from 50 in July and 50.2 in June, as both new orders and new export orders retreated at a faster rate. A reading above 50 means expansion.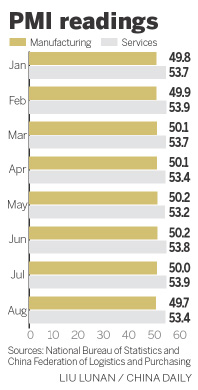 Ning Jizhe, deputy head of the National Development and Reform Commission, said on Tuesday that the short-term data volatility does not change the fundamentals, which remain "stable".
"China's economic growth is still at a reasonable rate, and is higher than most other major economies," said Ning, who highlighted the country's healthy jobs market, stable income growth and low level of inflation.
Ning expressed confidence in the government's ability to prevent sharp economic cooling in the coming months and its renewed focus to bring about a service-led structural transformation.
A separate survey, conducted by Markit Group Ltd and Caixin Insight Group focusing more on small and medium-sized enterprises, showed a manufacturing PMI of 47.3, the lowest since 2009, down from 47.8 in July.
The official services PMI and Caixin services PMI both showed declines in August, but still in the expansion zone, which can offset employment weakness in the industrial sector, said experts.
The Shanghai Composite Index fell by 1.23 percent to 3,166.62 points on Tuesday.
Song Yu, chief economist in China at Goldman Sachs Group Inc, said the PMI data have shown that the growth in August was weak.
"Short-term drags on activity, particularly the production and construction shutdowns for the events in Beijing, which were in place in seven provinces for the last 11 days of August, may have contributed to the weak data," he said.
"The drag from air quality-related shutdowns should be less significant in September," said Song.
He expects more supportive policy measures to be rolled out, such as more liquidity support to policy banks for infrastructure investment.
The central bank cut interest rates and the reserve requirement ratio last week to stabilize the financial market and the real economy.
Other measures announced included expansion of the local government bailout fund to 3.2 trillion yuan ($503 billion) from 2 trillion yuan, and liquidity injection in the stock market.