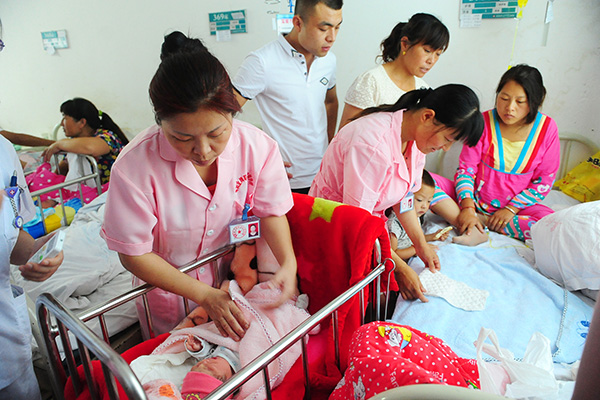 A confinement nurse takes care of a new-born baby at a hospital in Fuyang, Anhui province. [Photo/China Daily]
A national quality standard for the mother and childcare services sector was released by the Standardization Administration of China recently, which is being seen as a first step toward regulation of the "confinement nursing" market.
In recent years, this occupation - which Western readers might call "nannying" - has become increasingly popular in China's mega cities.
But along with its rising popularity, the employing of these nurses, or yuesao in Chinese, is now being questioned by many, because of rising instances of unprofessionalism and the growing costs involved, prompting calls for urgent government intervention.
According to a recent survey, more than 80 percent of the people in Guangzhou, the capital of Guangdong province, said they needed a maternity nanny to take care of both their newborn baby and the new mother.
Only 13.6 percent said they did not consider hiring a helper during this period of confinement at home, according to a report in Yangcheng Evening News, a local newspaper.
Almost all my friends here in Beijing hired nannies in the month after they give birth, no matter whether it was their first or second baby.
One new mom I know who lives in a 55-square-meter, one-bedroom apartment with her husband and mother-in-law, booked her nurse five months in advance of her son arriving.
The Peking University graduate urged me to book myself my own nanny when I was expecting. She said, "do it well in advance", because demand in the capital for the most-experienced helpers has become fierce.
But from what I found out, the confinement nursing market in China is out of control, both on the quality of service available and on price.
I heard that largely unqualified workers are pouring in, which is presenting a serious risk for unsuspecting families.
The incomes of confinement nurses are already higher than many other service occupations.