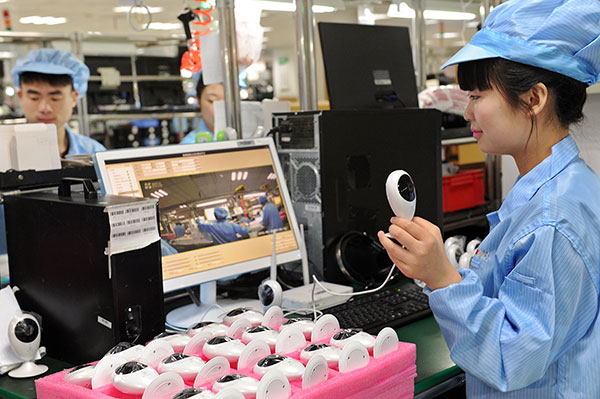 Technicians conduct quality control checks on video surveillance products at Hikvision Digital Technology Co in Hangzhou, Zhejiang province. The company is the world's largest provider of such solutions in terms of market share. [Wu Yuanfeng / For China Daily]
Hangzhou firm looks to grow its presence in Internet market
A gang of robbers has just robbed a bank and fled with a car. By entering information about the robbers and the car, police officers are able to get video footage sent from surveillance cameras around the city and track their whereabouts within minutes.
This is no longer an imaginary scene that we see in Hollywood blockbusters. Such technology, developed by Hikvision Digital Technology Co, has already been used by several security departments around the world.
Headquartered in Hangzhou, Zhejiang province, Hikvision is the world's largest video surveillance products and solutions provider in terms of market share.
According to a report from market research firm IHS Technology, Hikvision has accounted for the largest-market share in the global CCTV and video surveillance market for four consecutive years.
The report showed that the company controlled 16.3 percent of the global market in 2014, rising from 8 percent in 2012.
Zheng Yibo, vice-president of the company, said that combining innovation with market potential has been the key to the company's rapid growth.
"As a high-tech company, innovation is what we always emphasize, but it cannot be separated from the market," he said.
Zheng said that when the company was founded in 2001, digital surveillance was not popular in most markets. But the company decided to move ahead and develop digital surveillance products.
Hikvision has 13,000 employees around the world, with about 5,300 of them engaged in the research and development sector. R&D accounts for 7 to 8 percent of the company's annual sales revenue.
Another key point, according to Zheng, is that the company moves on to develop the next product, even when the current one is still hot in the market.
"What we focus more is not what the market needs now, but what the market is going to need in the future," he said.